Get a feel of the digital guest journey with AeroGuest
Experience the latest web check-in guest journey below. Our mobile hospitality technology gives your guests a better and smoother experience across all touchpoints - and lets you connect with them before, during and after their stay.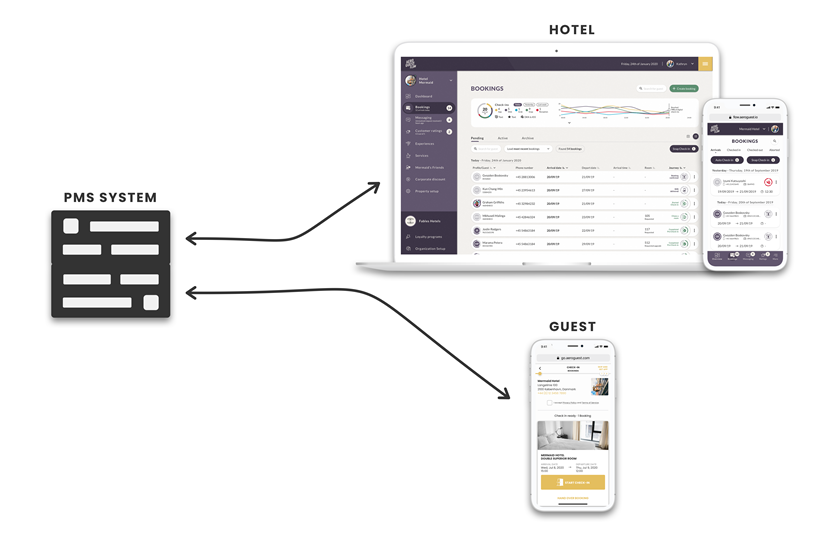 We integrate with your existing PMS
AeroGuest is the most advanced piece of traveltech within mobile hospitality. To ensure an excellent guest experience, we work with the best property management systems (PMS), channel managers, mobile access providers and payment solutions.
All of our validated PMS integrations are full 2-way integrations that synchronize reservation data and reservation states between AeroGuest and the PMS.
AeroGuest is the mobile travel platform of the world. With our thoroughly developed conversion engine, we are capable of targeting 100% of hotel check-ins.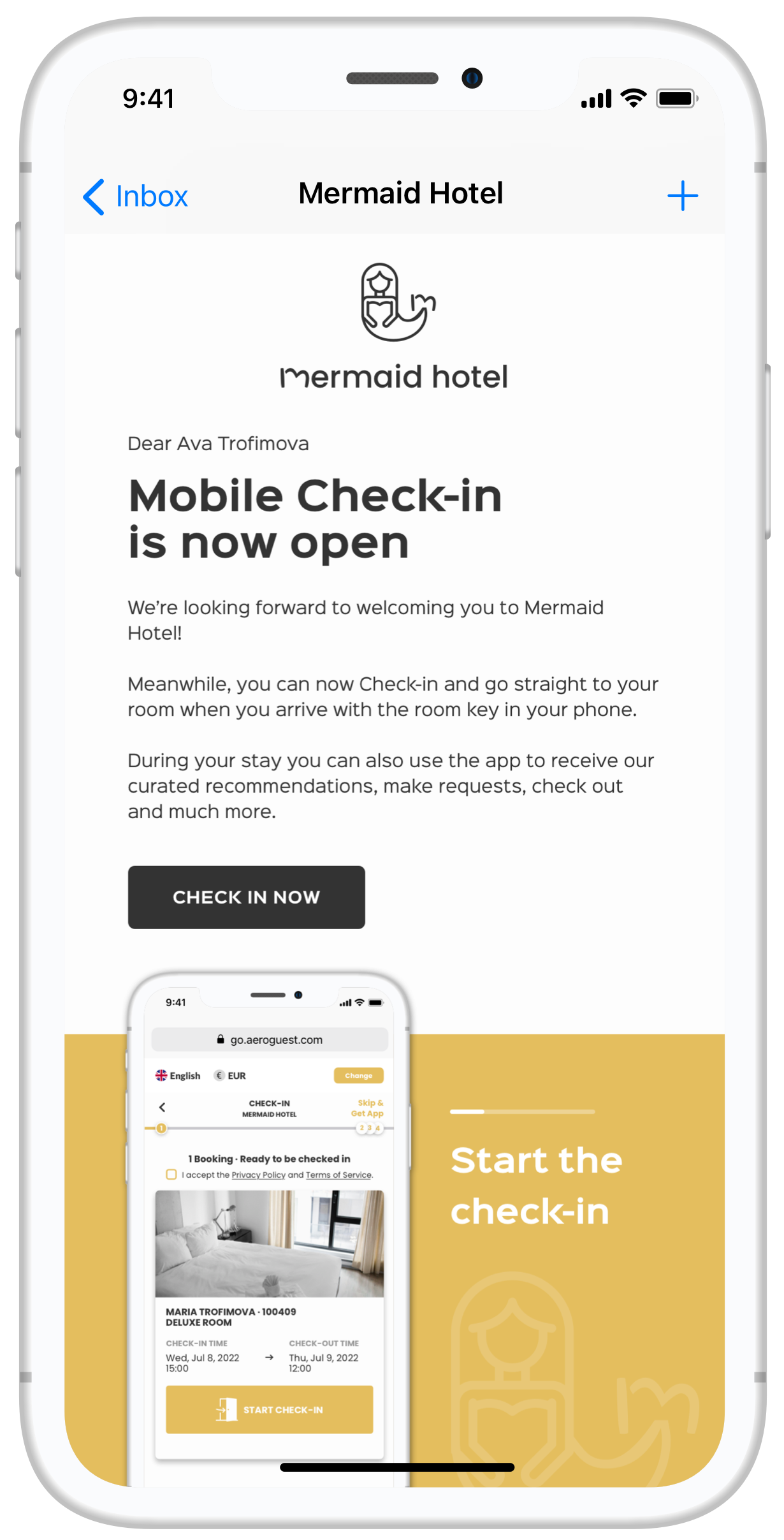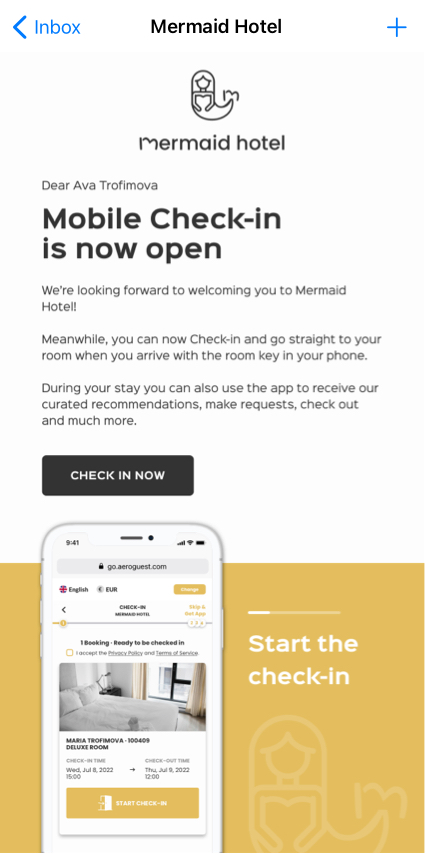 1

/ 9
Before stay
Couple of days before the guests arrive, they will receive an email invitation to start the online check-in.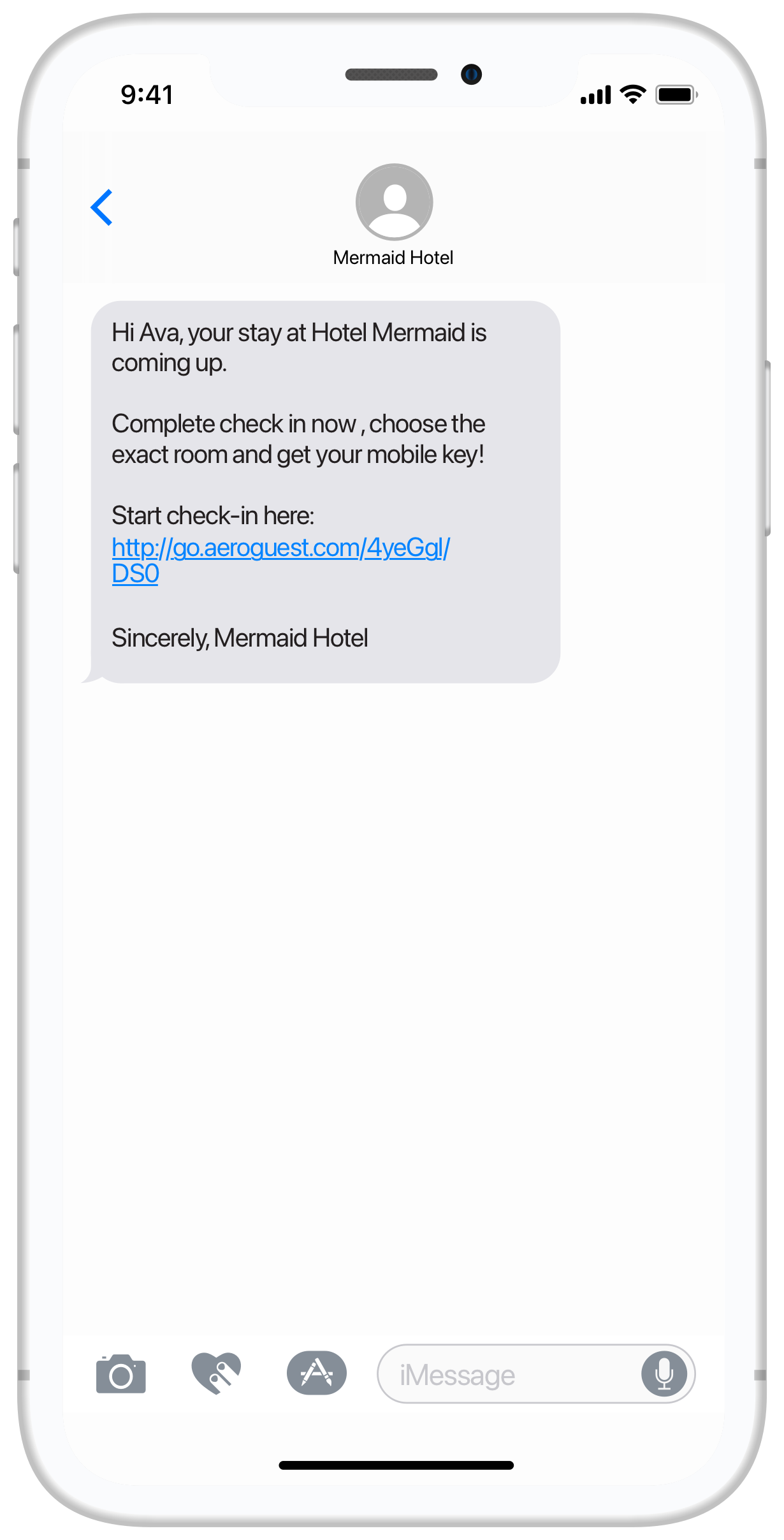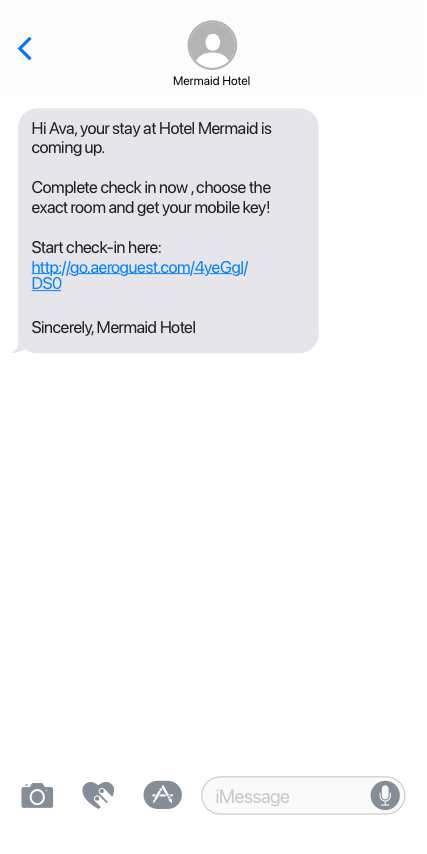 2

/ 9
Before stay
If the guests don't react to the email, SMS will be send in order to complete the check-in process.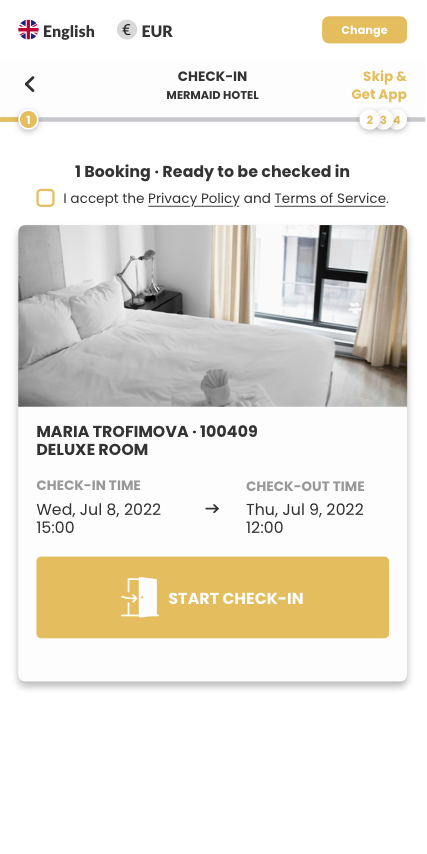 3

/ 9
Before stay
No App needed. The guests can check-in through the web browser from the comfort of their home.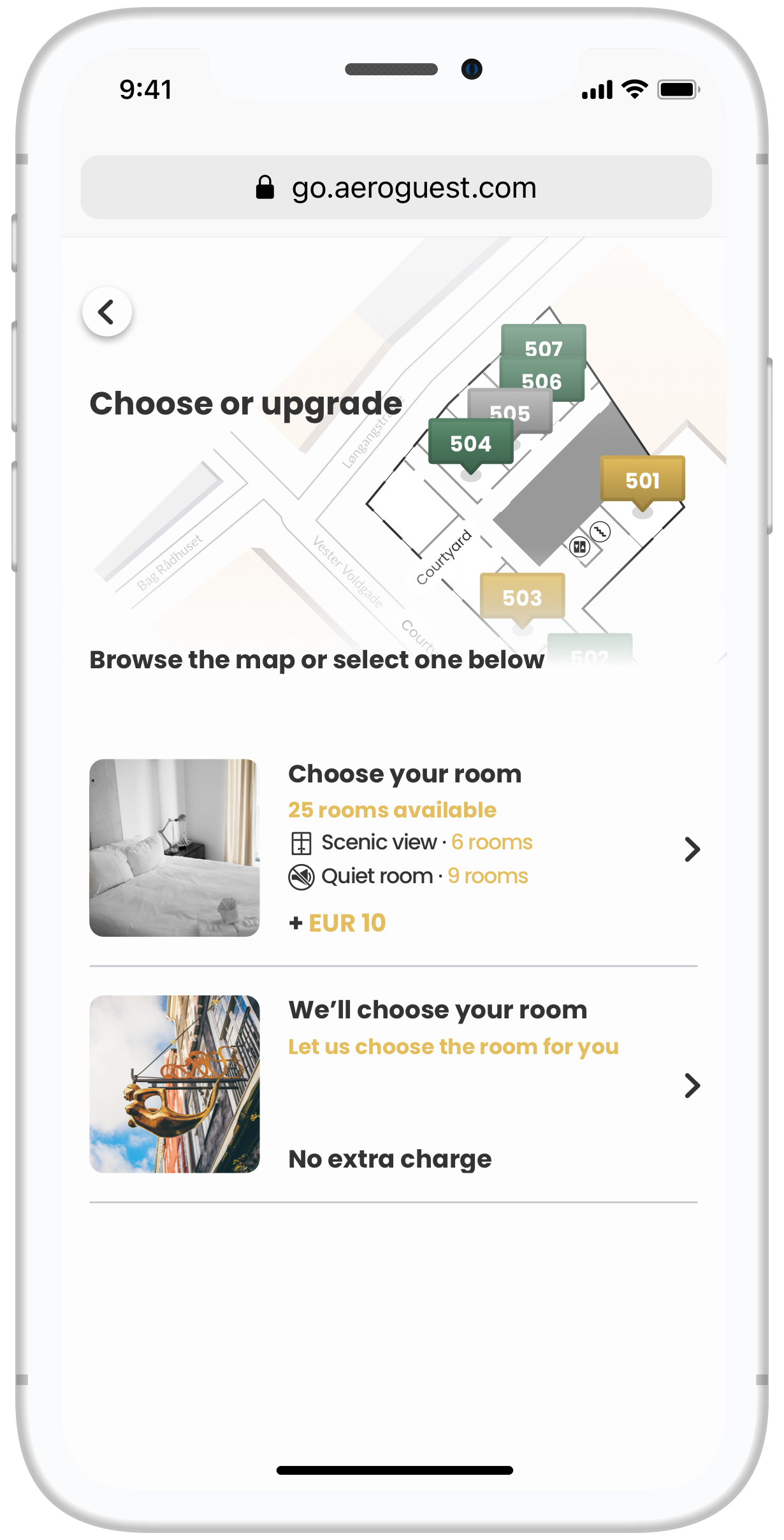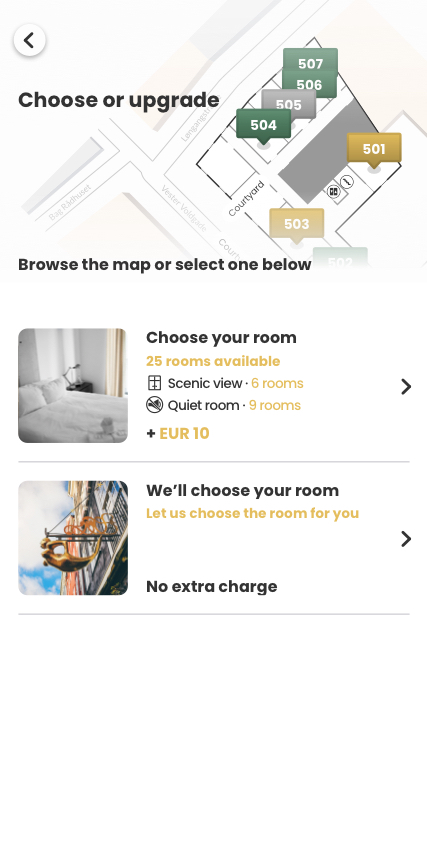 4

/ 9
Before stay
Just like when you choose a seat on a flight, guests should be able to check-in and select their preferred room in advance. Either from the list or interactive floor map.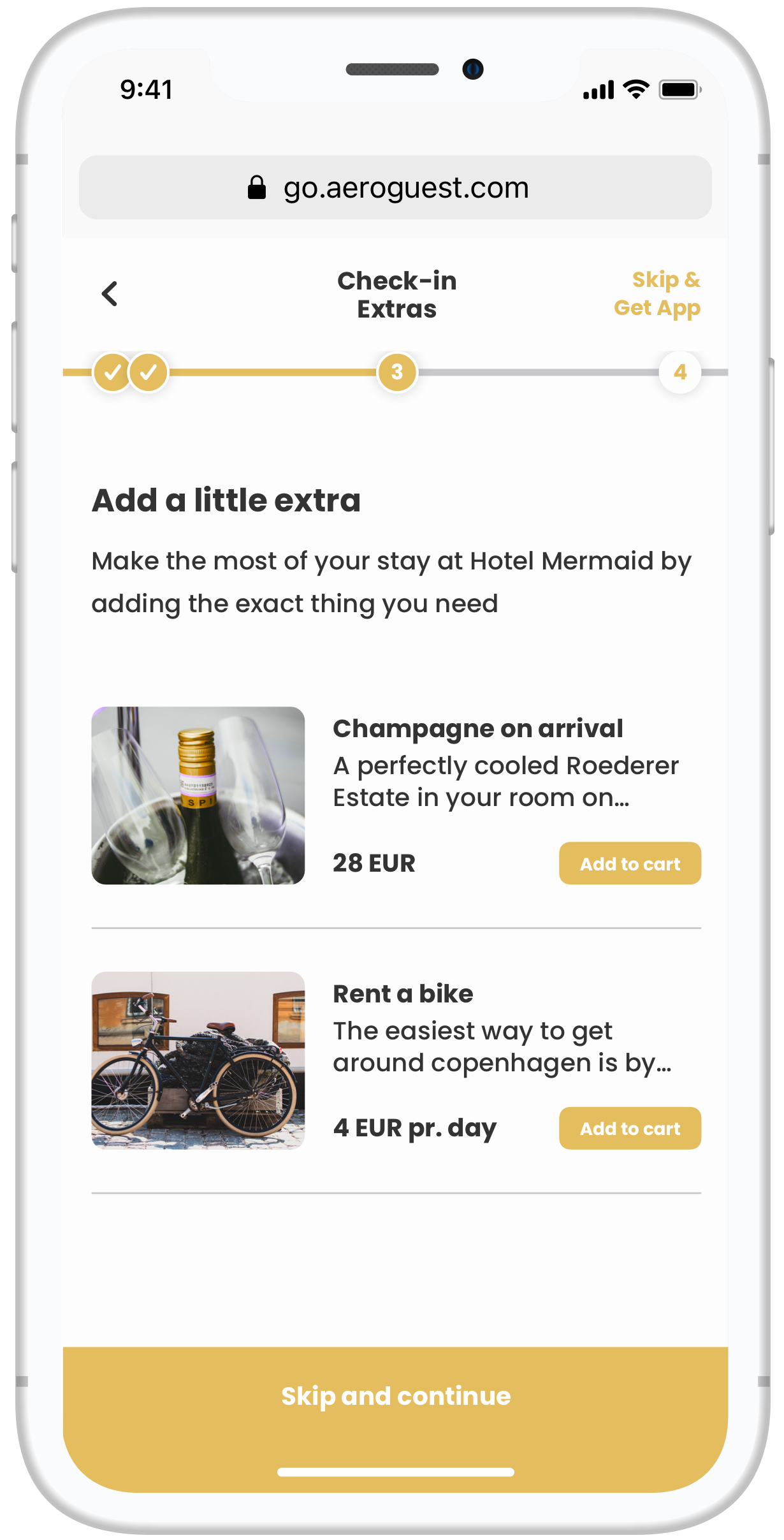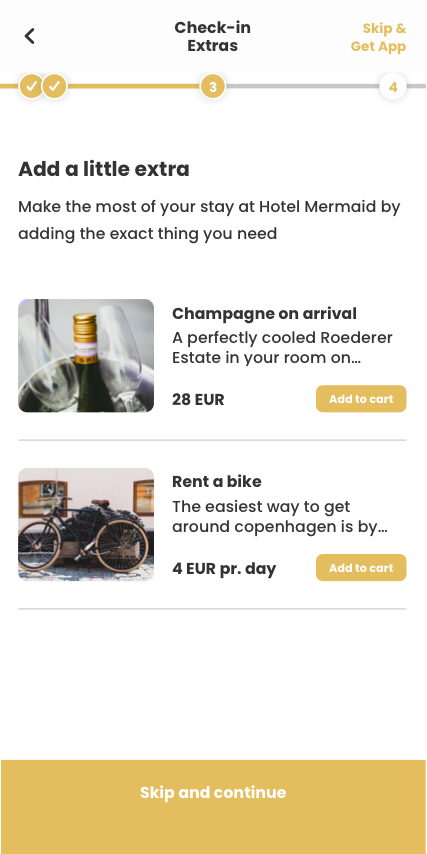 5

/ 9
Before stay
Offer Extras to your hotel guests before they arrive, so they can customize their stay and make the best out of it.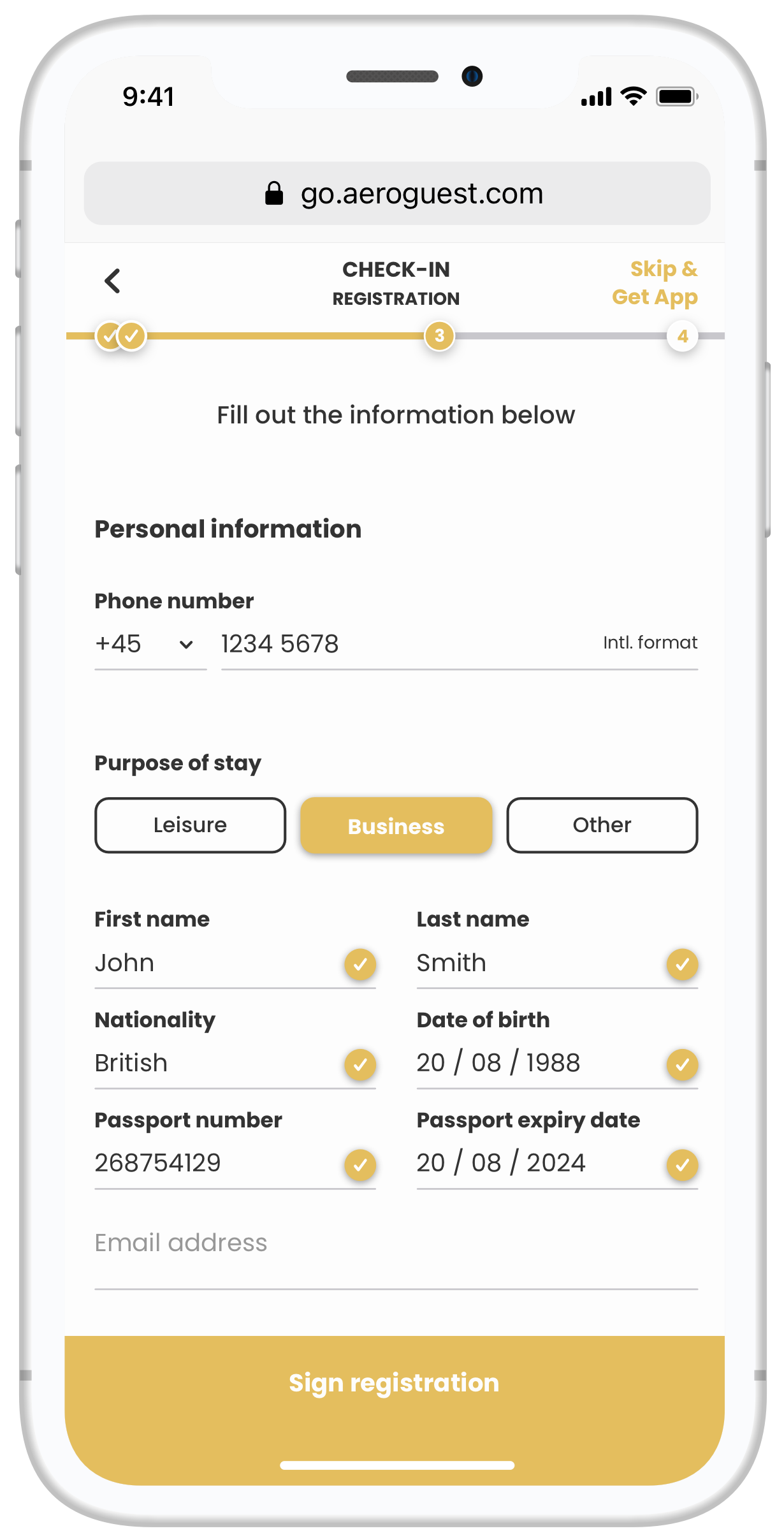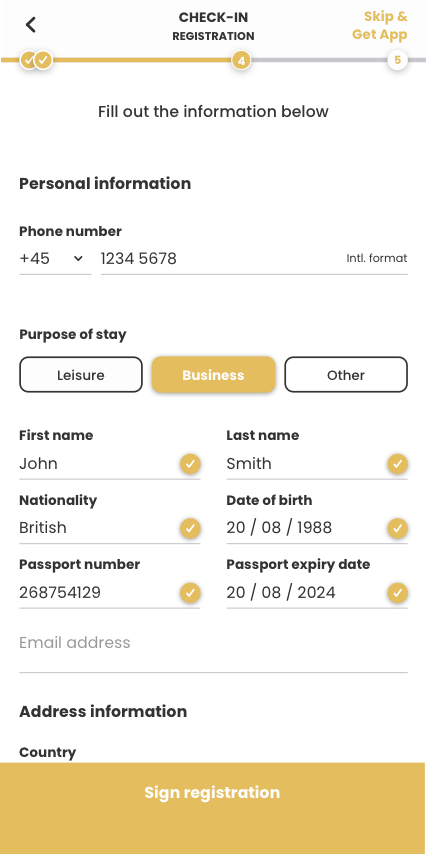 6

/ 9
Before stay
Let your guests fill out their personal information in advance so you can both skip the paperwork on arrival.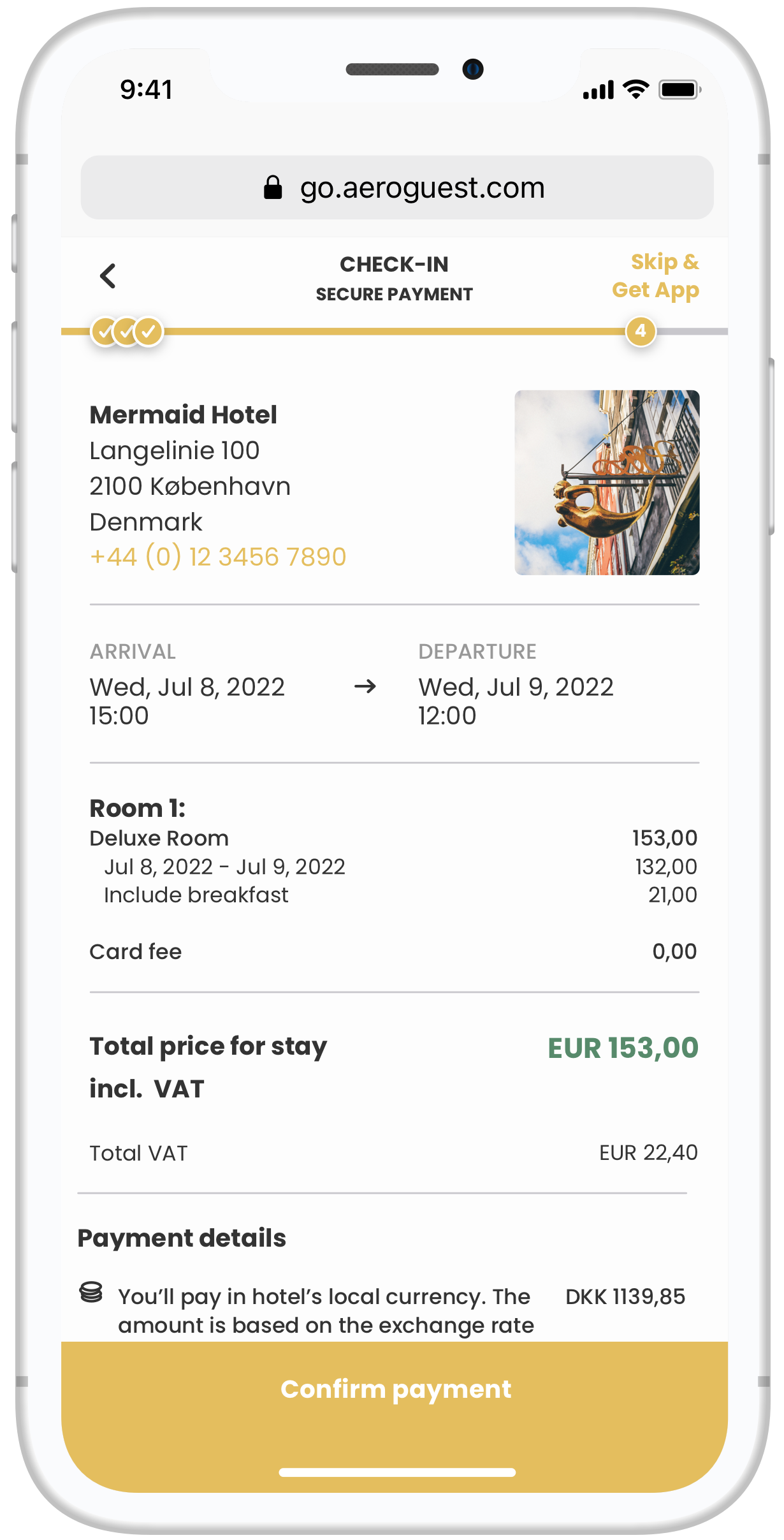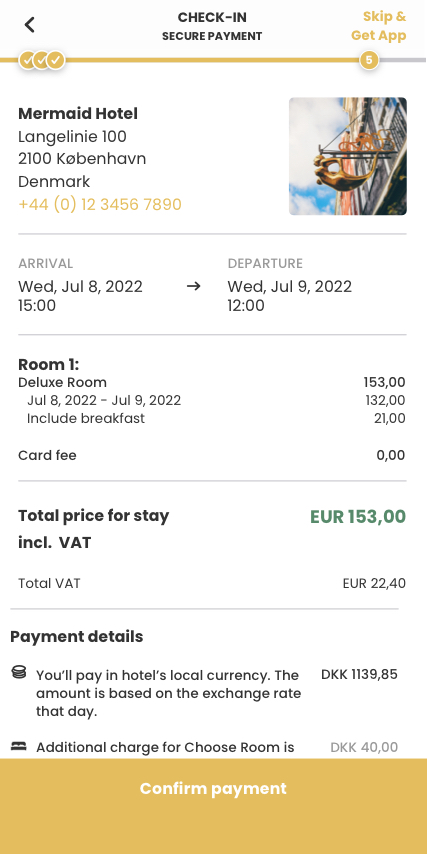 7

/ 9
Before stay
We secure payments through APEXX who consolidate global payment providers into a single integration point. AeroGuest also saves you money on credit card fees.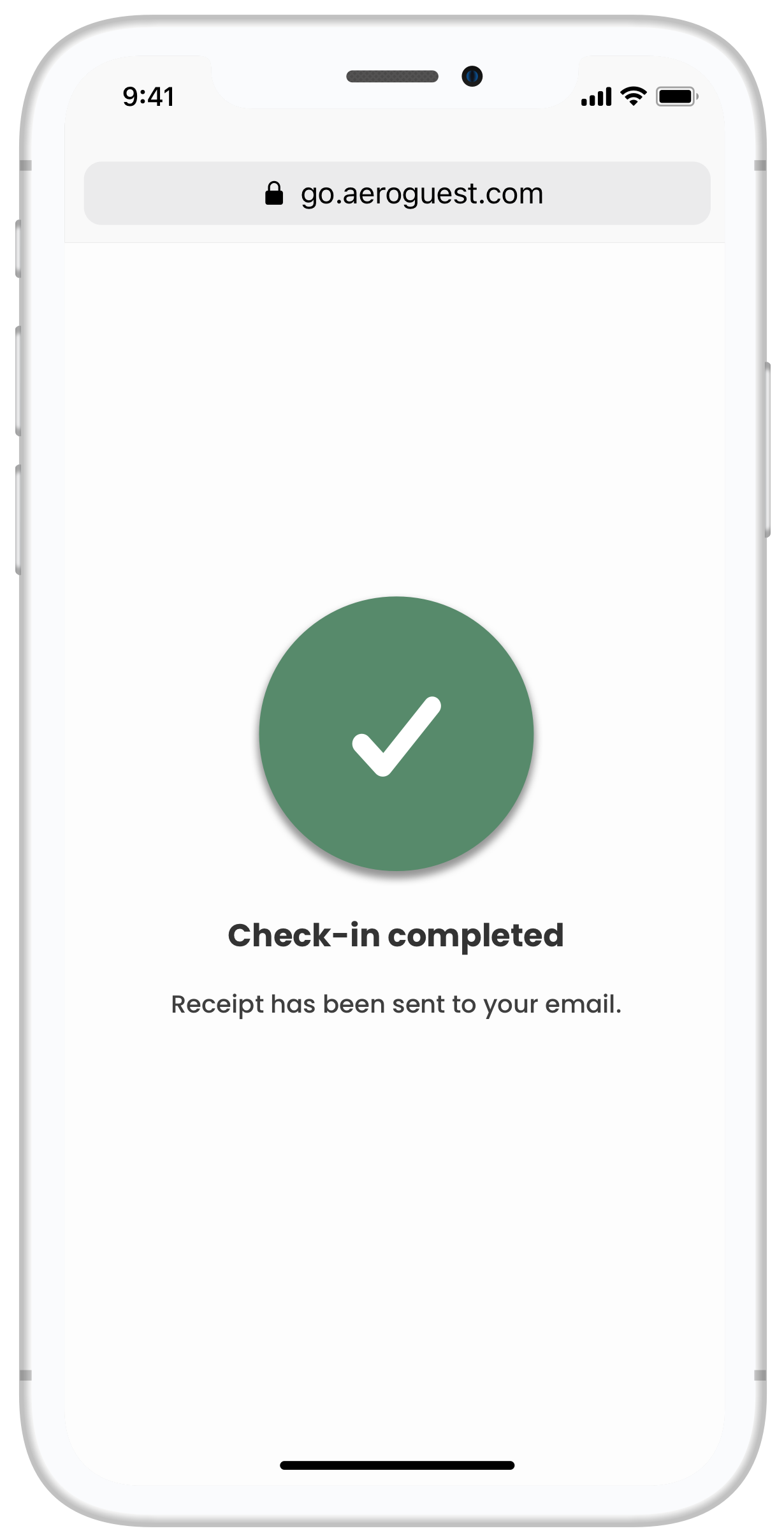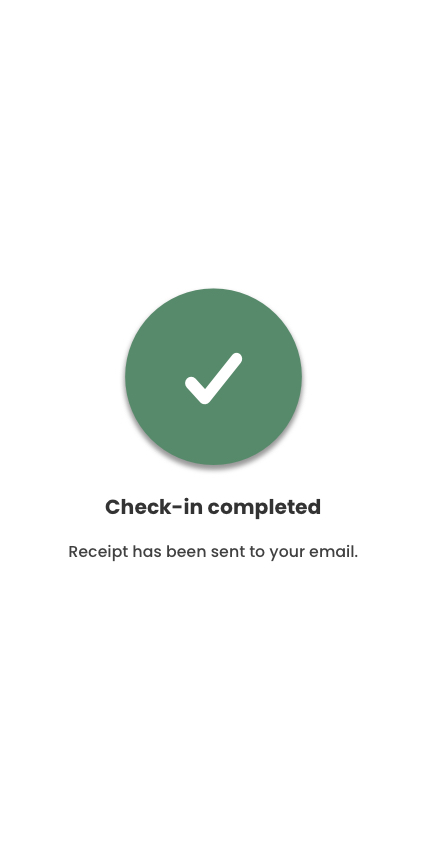 8

/ 9
Before stay
That was easy, wasn't it? The guest now completed the check-in process.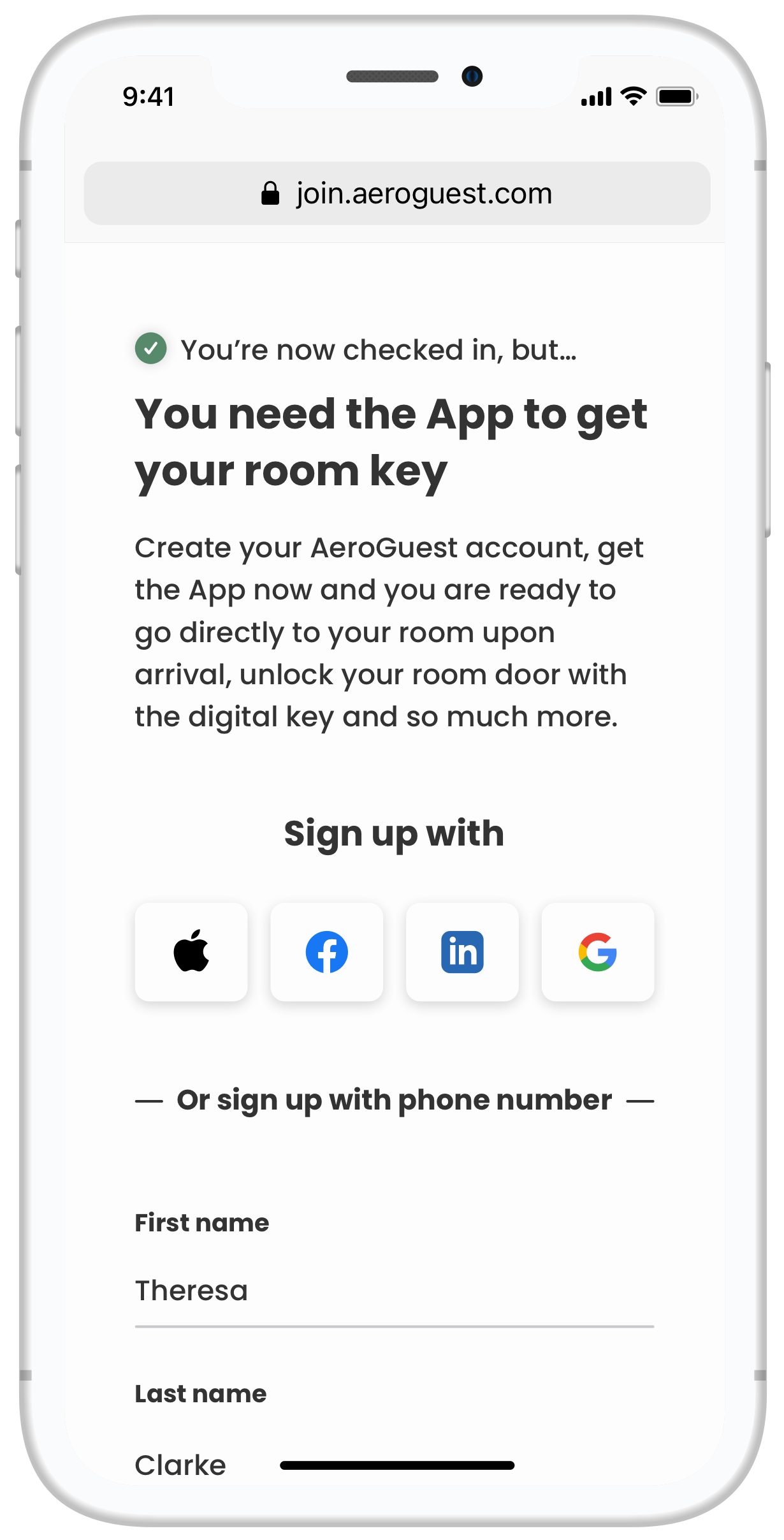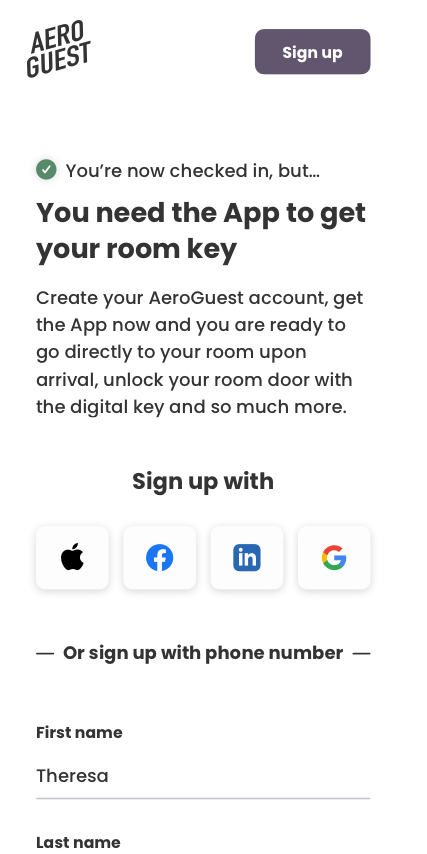 9

/ 9
Before stay
The guest is now checked in, but...it's time to download the app to have a full experience of a touch-free hotel stay.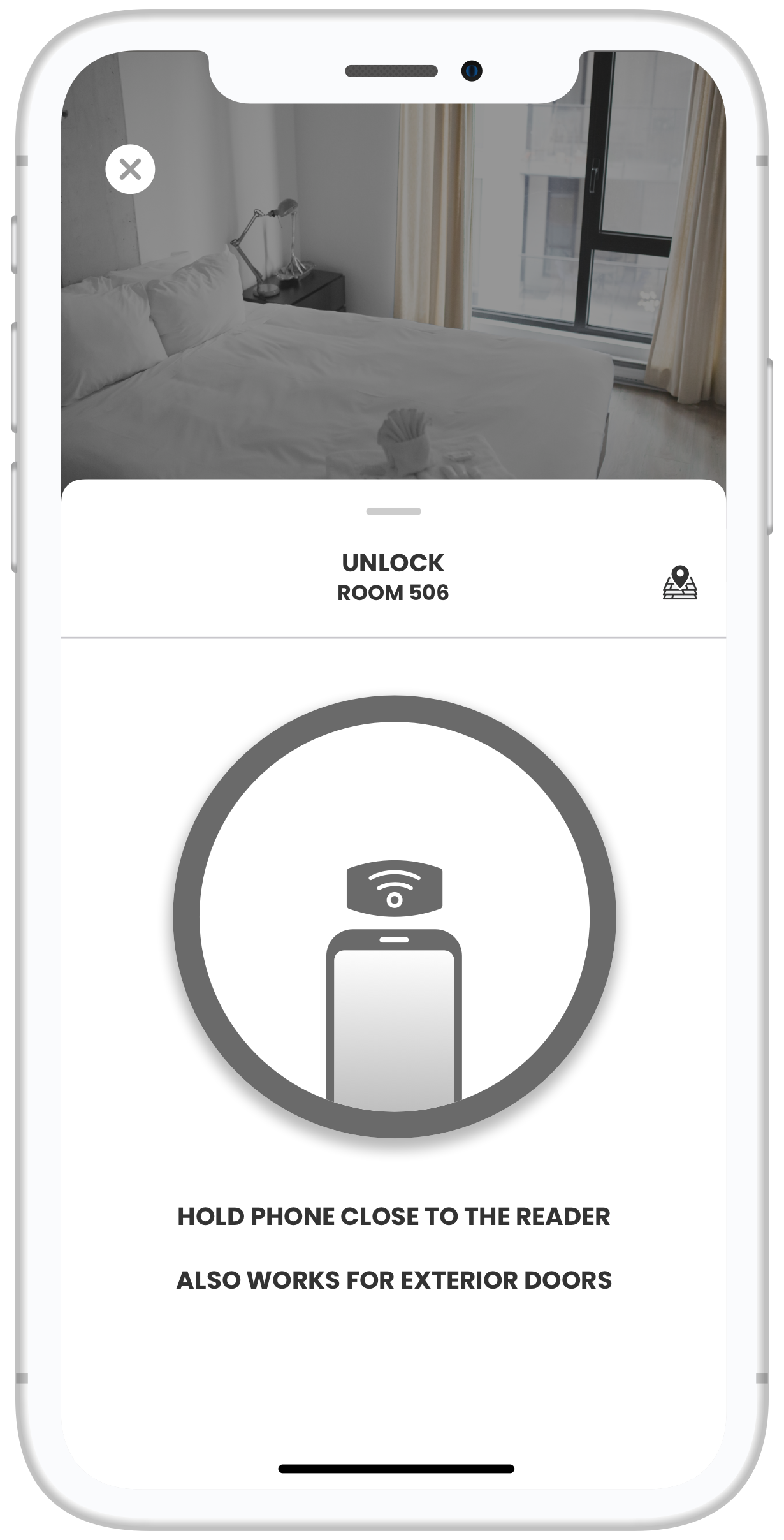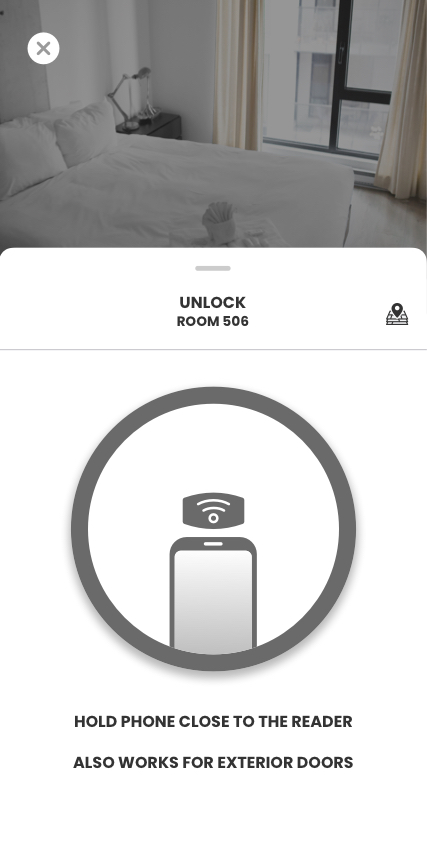 1

/ 4
During stay
With AeroGuest App, your guests are ready to go straight to their room and unlock the door with their mobile. The key can easily be shared with roommates.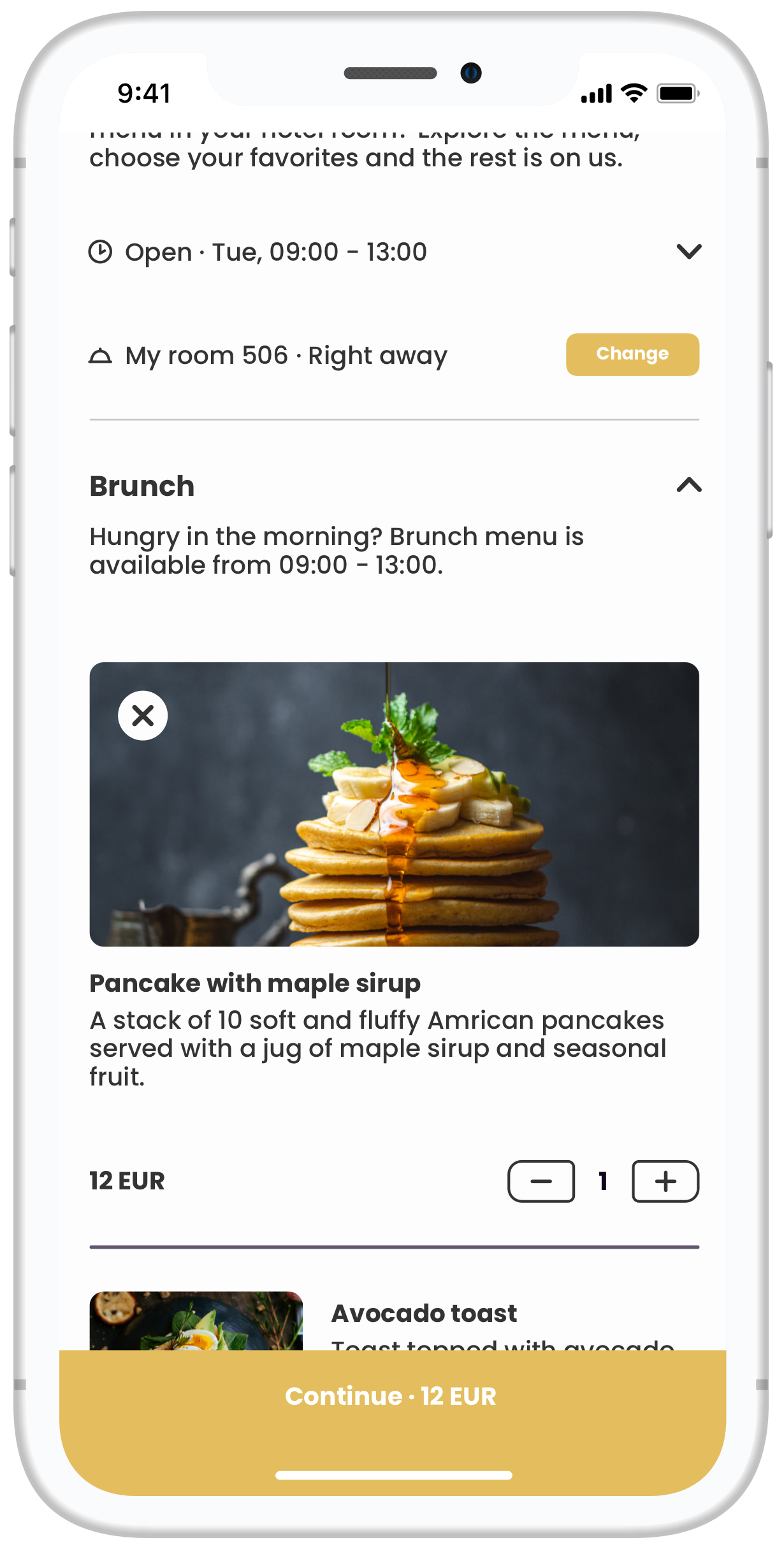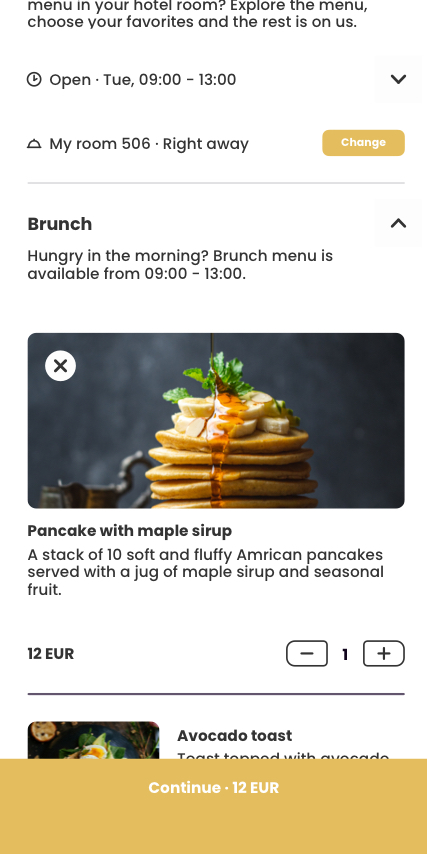 2

/ 4
During stay
To provide comfort and ease-of-use to your hotel guests, we offer a Room Service feature, that allow guests to browse your menu and send orders directly to your kitchen.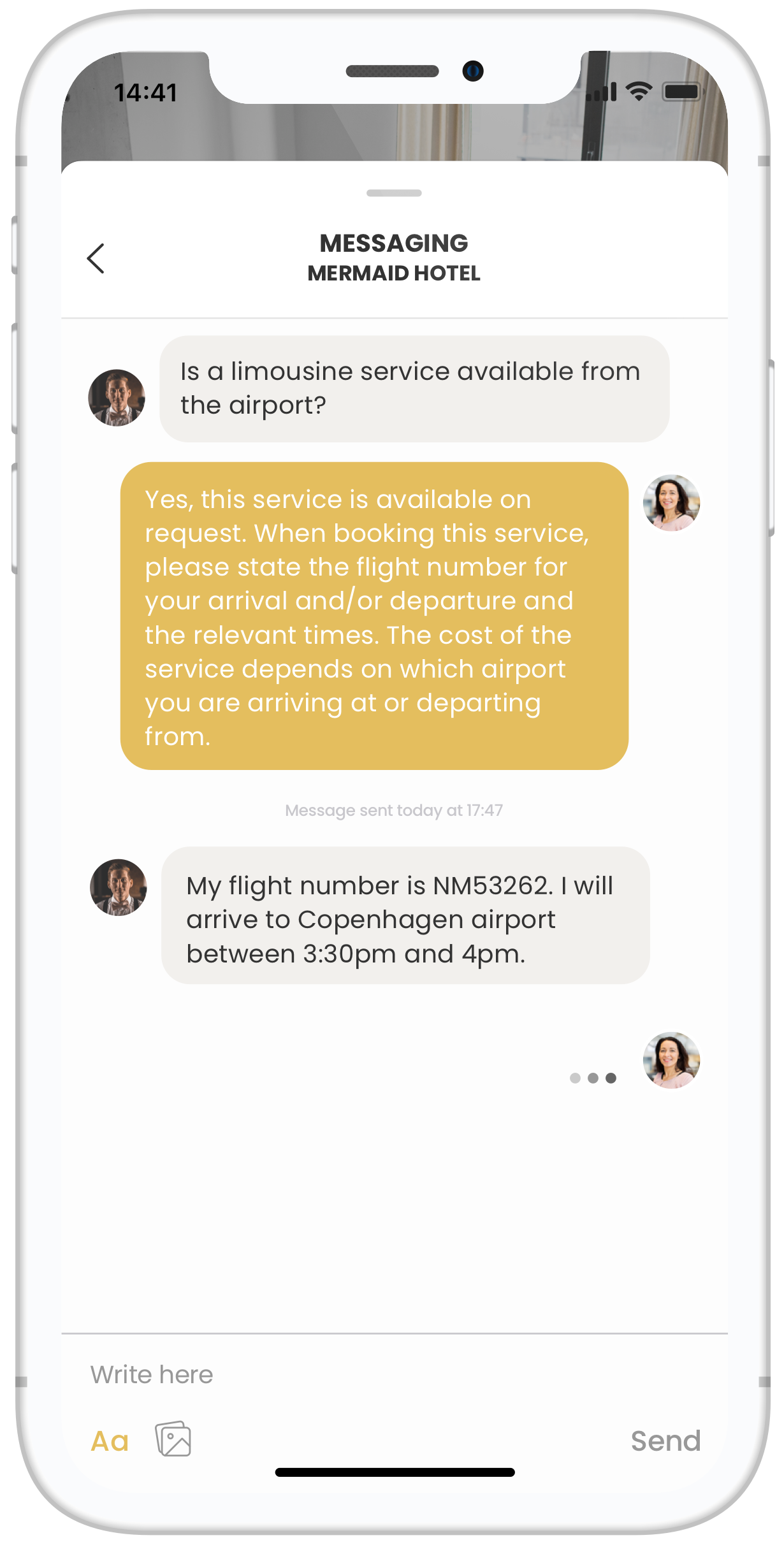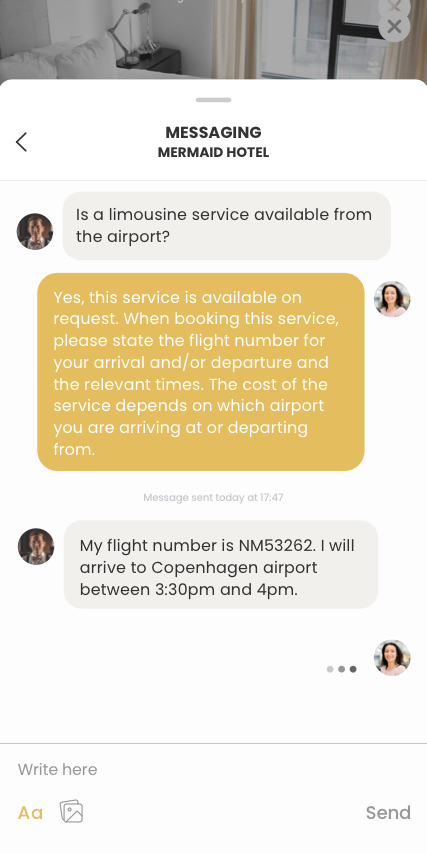 3

/ 4
During stay
Assist your guests with any questions or requests 24/7 with our advanced chat. You can view and handle all messages via AeroGuest Flow - our Guest Management Platform.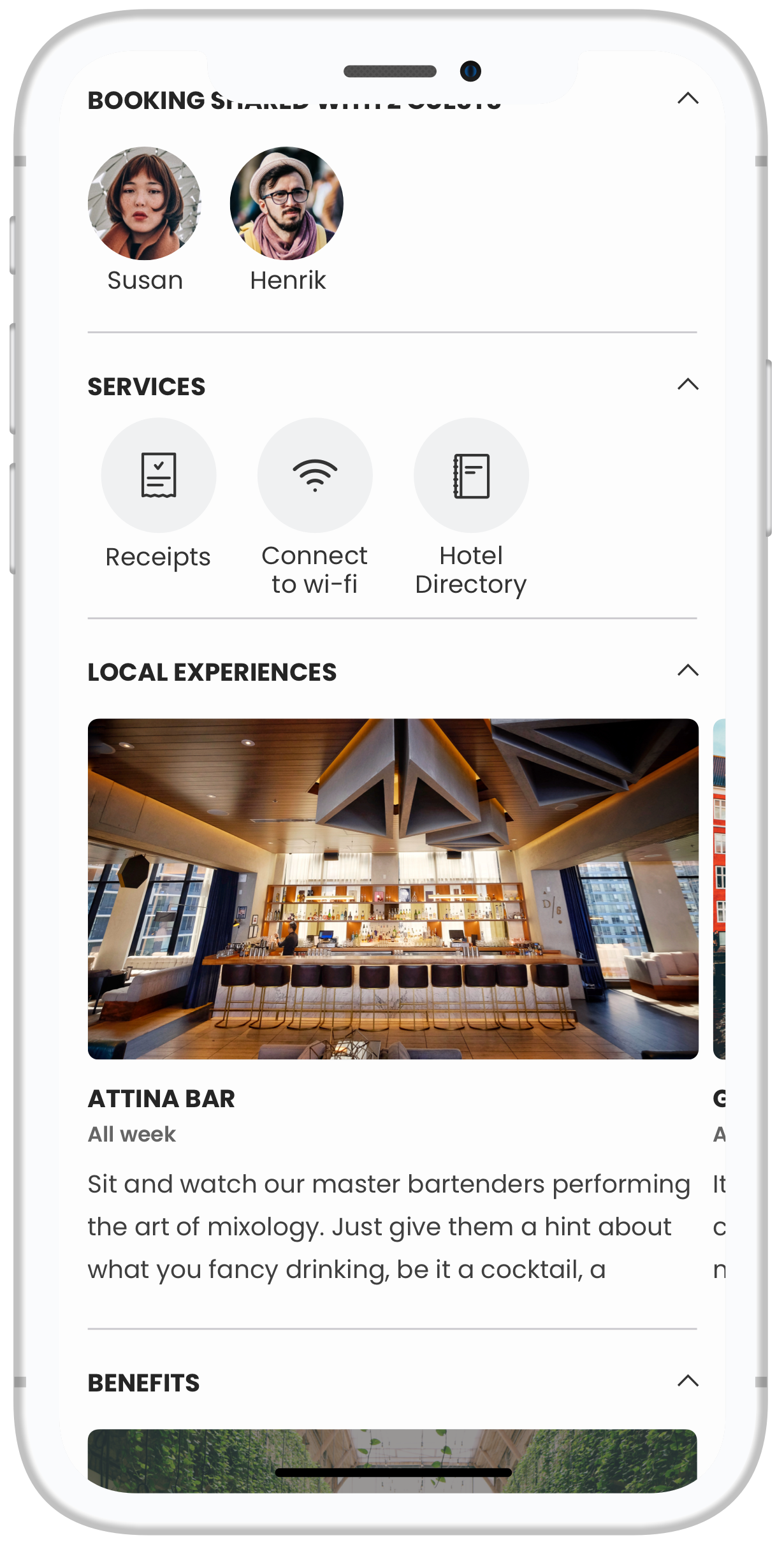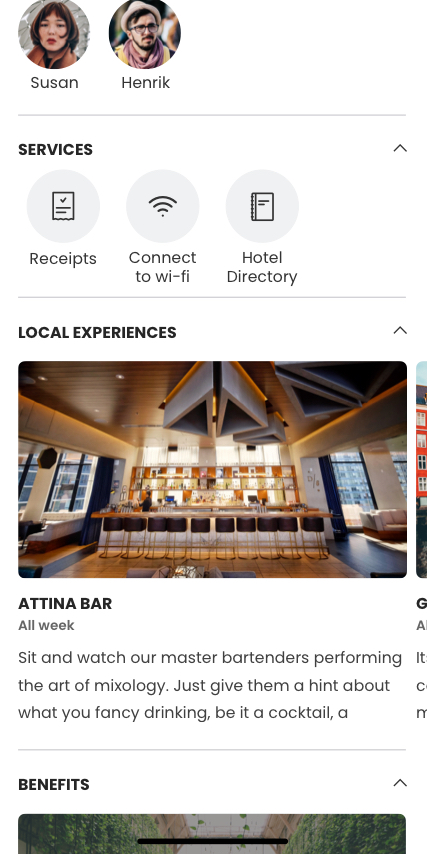 4

/ 4
During stay
The modern traveler is curious and adventurous. Offer your guests the best experience and local cuisines with AeroGuest and claim your position as a destination.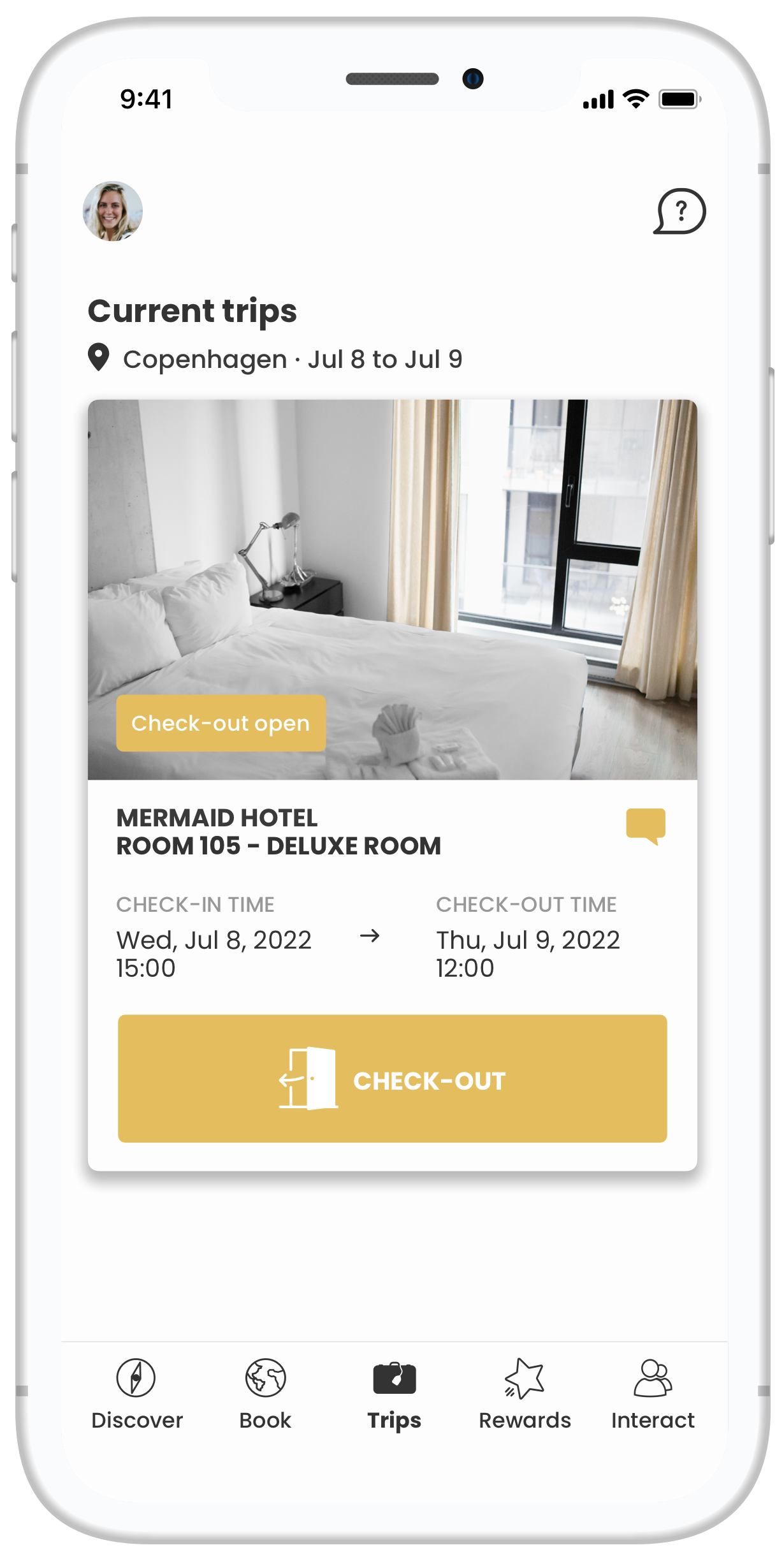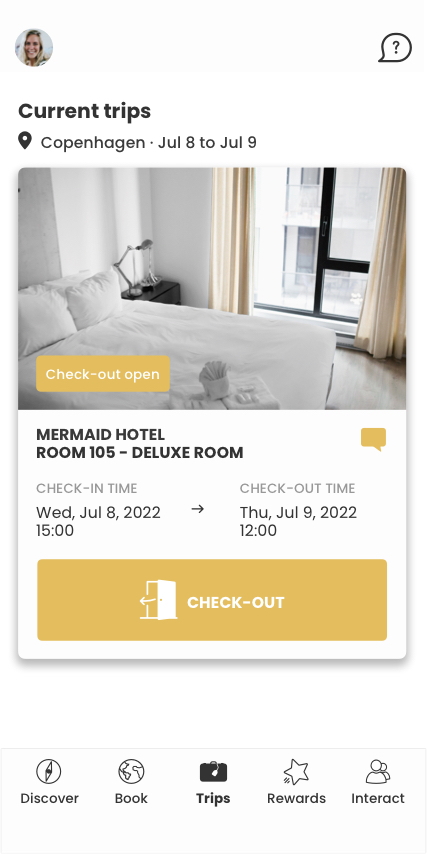 1

/ 6
After stay
On the day of departure, your guests can quickly check-out through the app.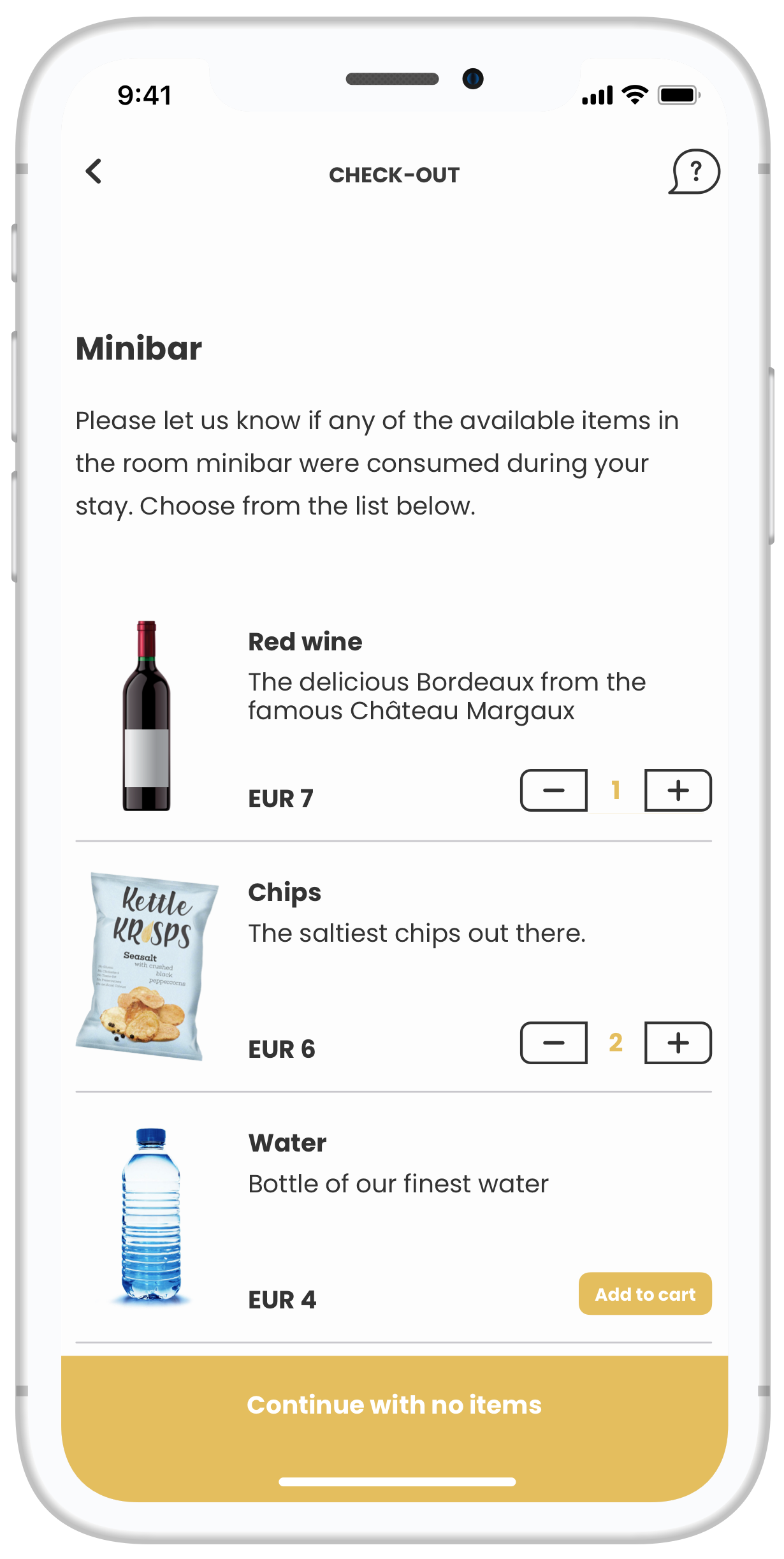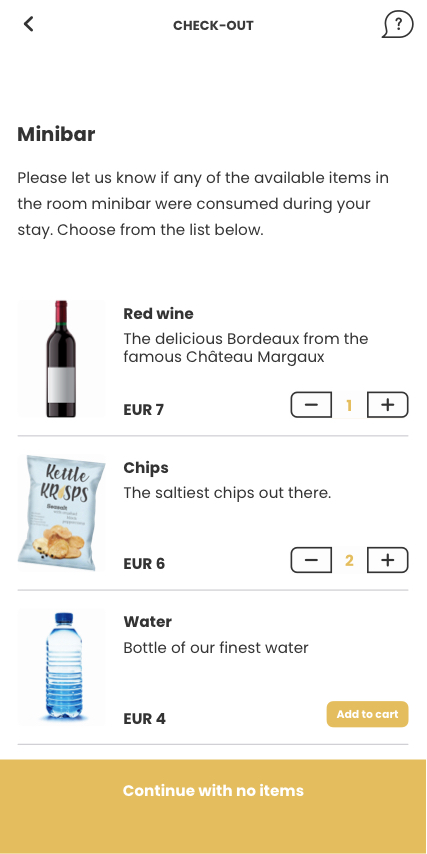 2

/ 6
After stay
Guests can add items consumed from the Minibar during their stay and proceed to payment.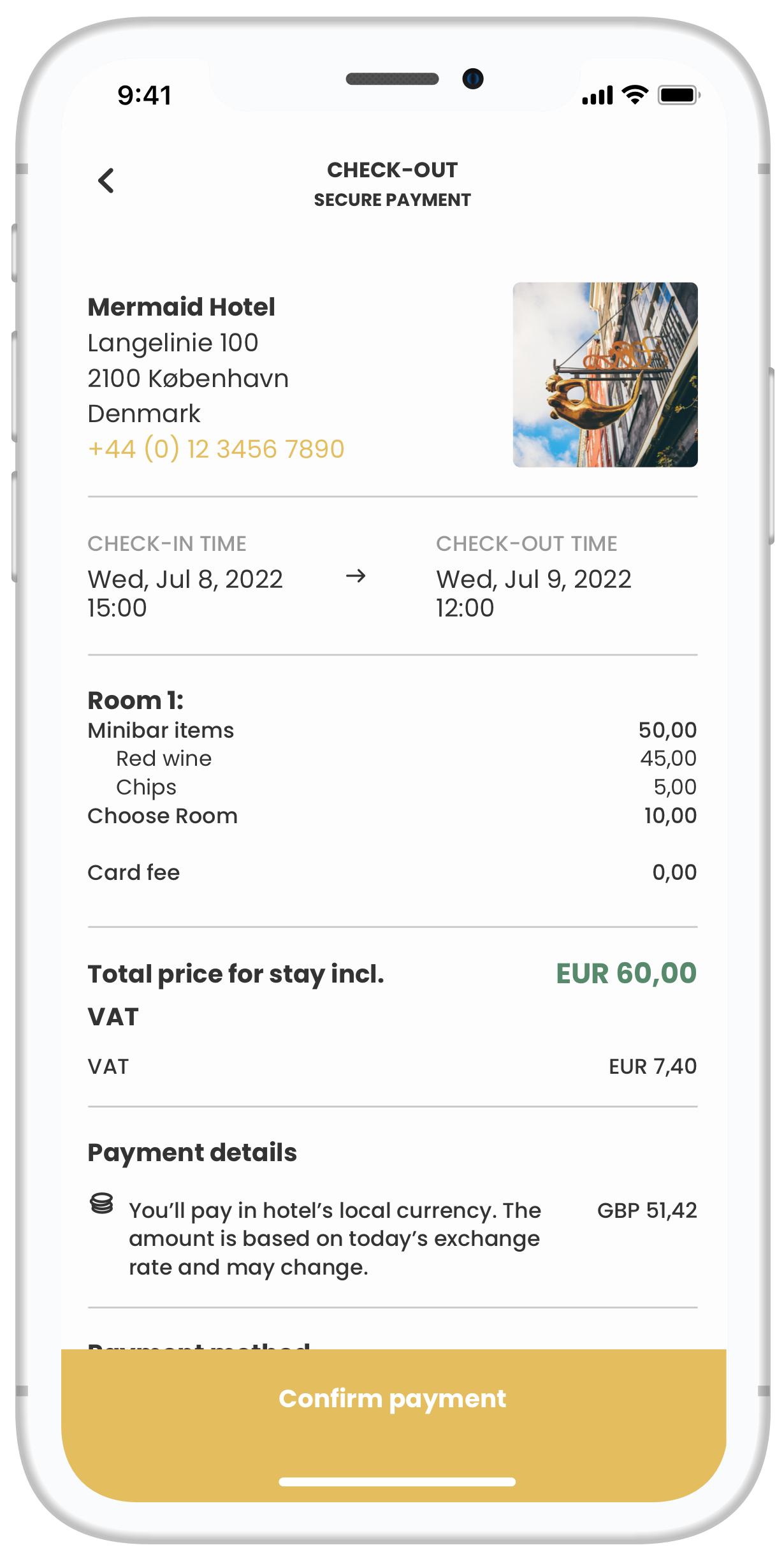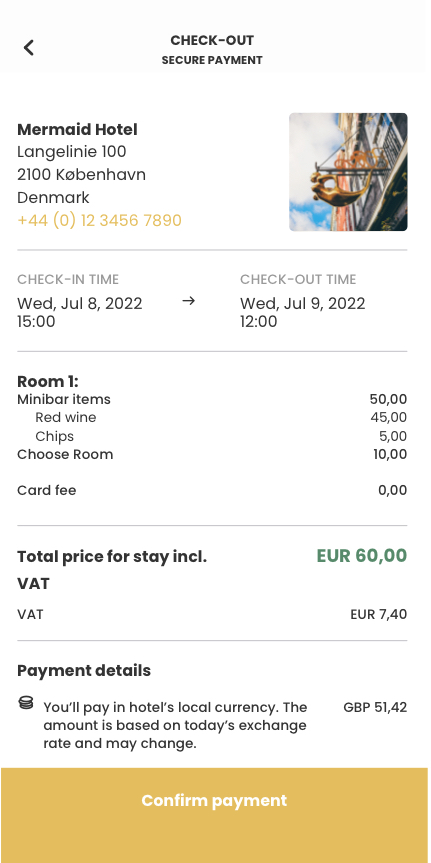 3

/ 6
After stay
The fee for Choose Room feature and consumed items from the Minibar are now handled and paid by the guests.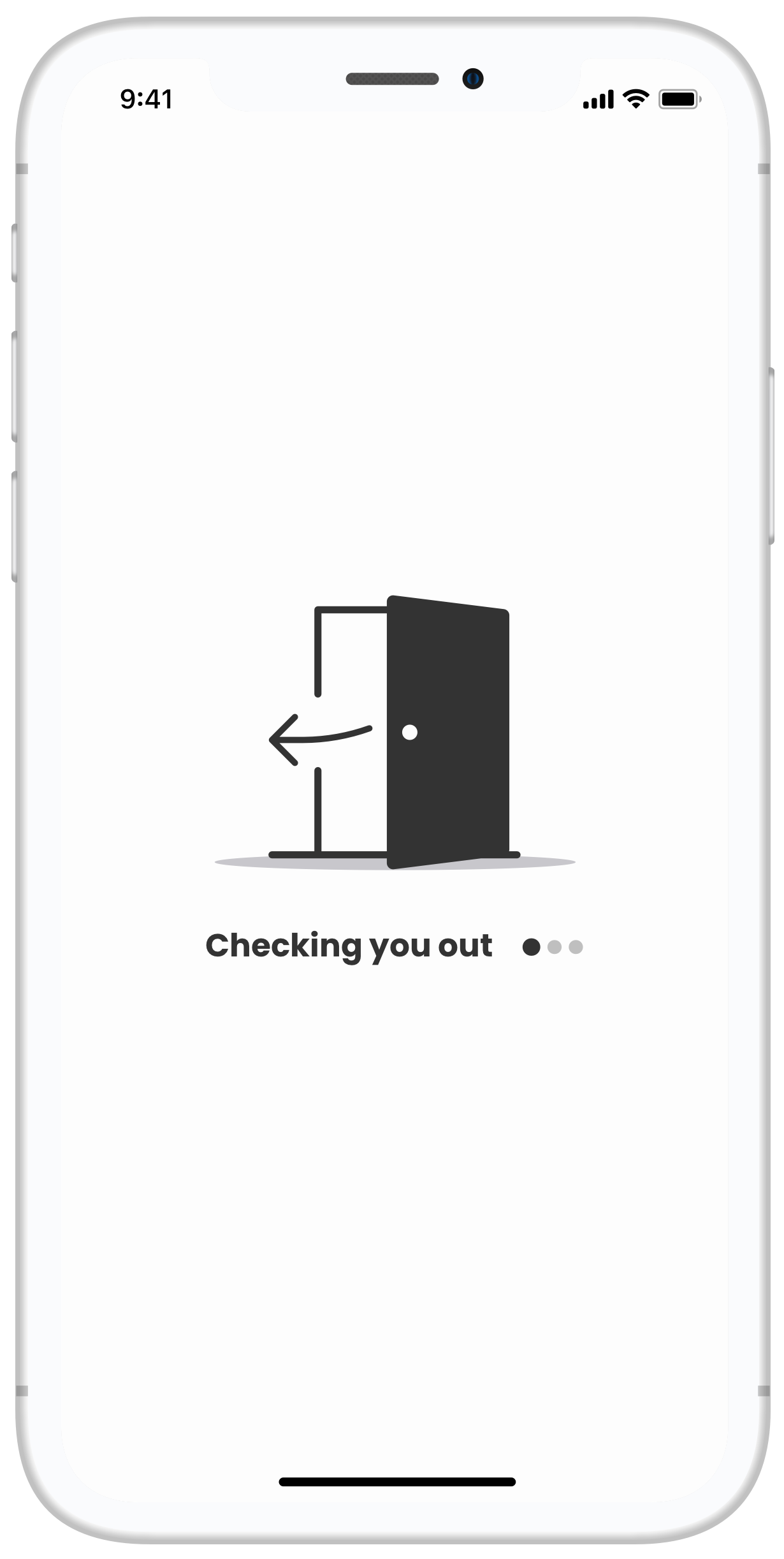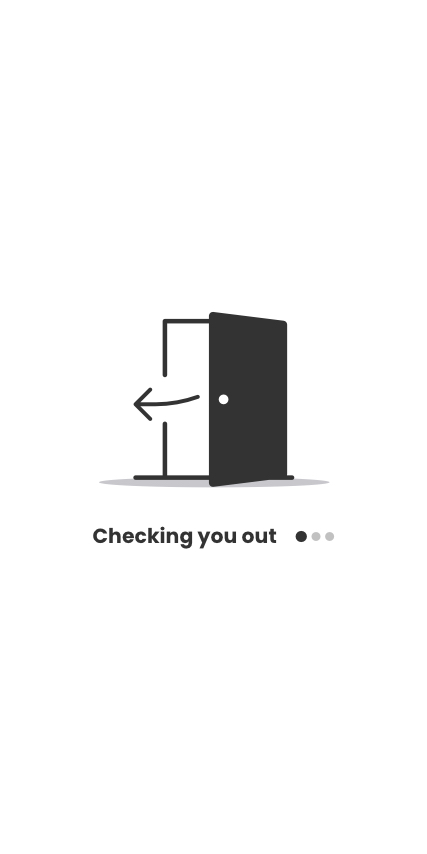 4

/ 6
After stay
The guest now handled all the formalities and is checked out.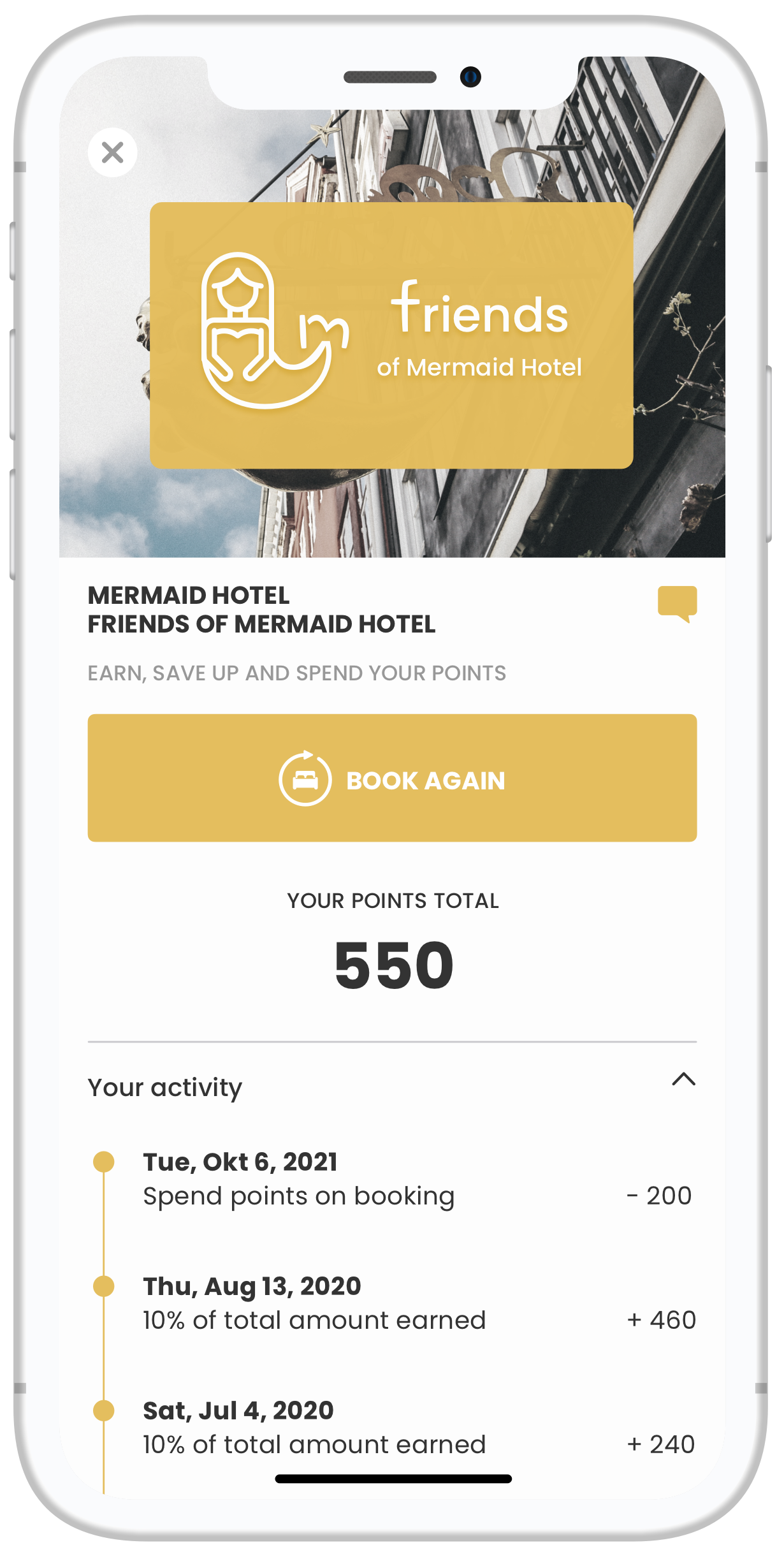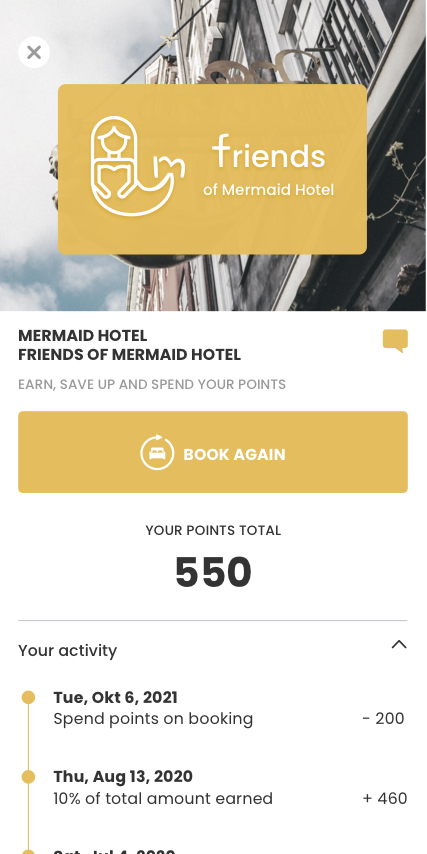 5

/ 6
After stay
On check-out completion, the guests receive an invitation to join the hotel's reward program, increasing direct bookings.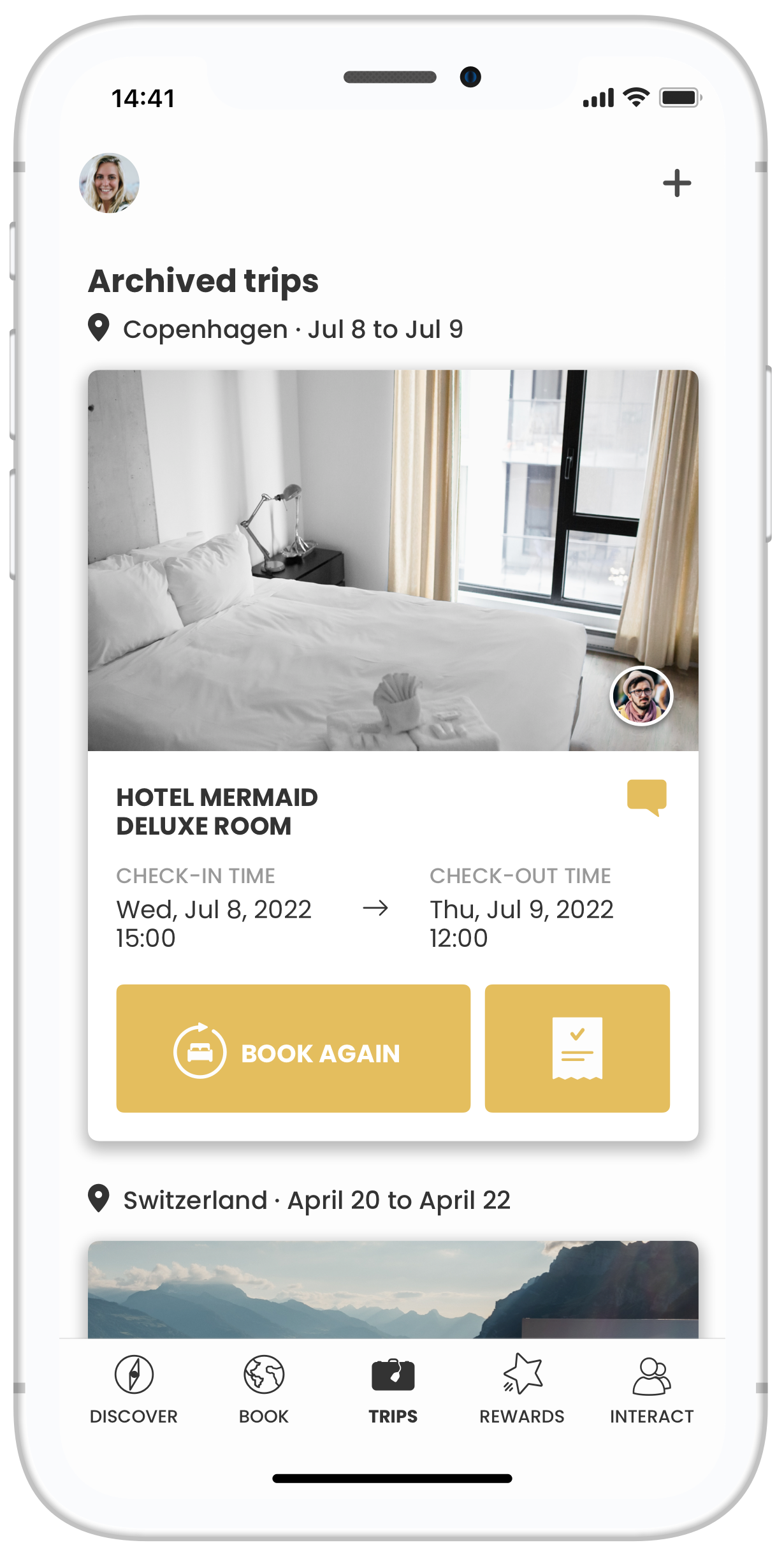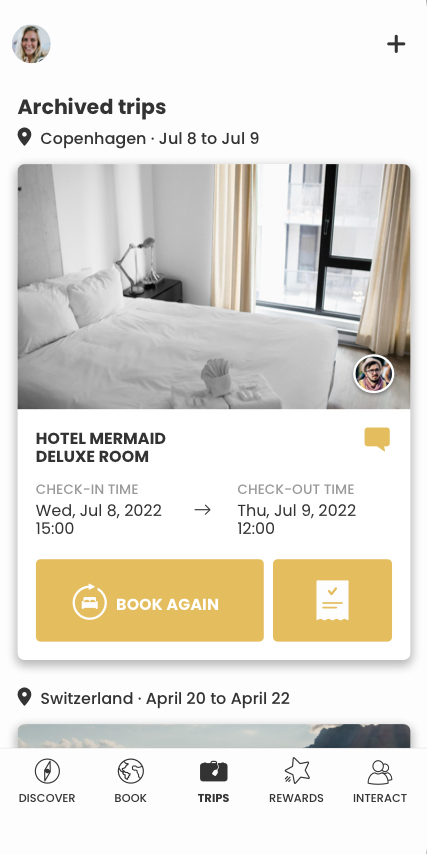 6

/ 6
After stay
The guests booking card is automatically moved to Archived Trips where they can easily access the Book Again feature.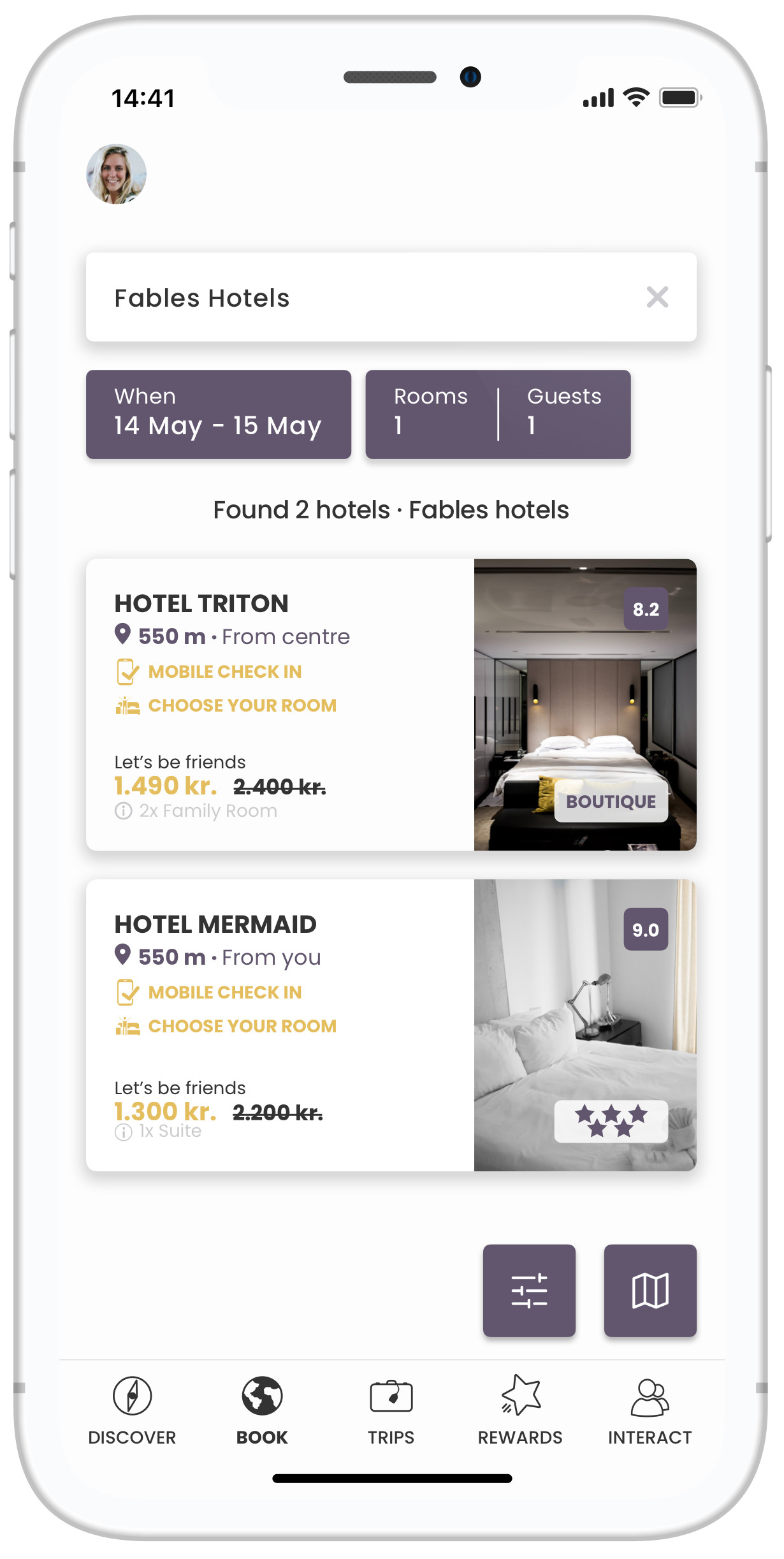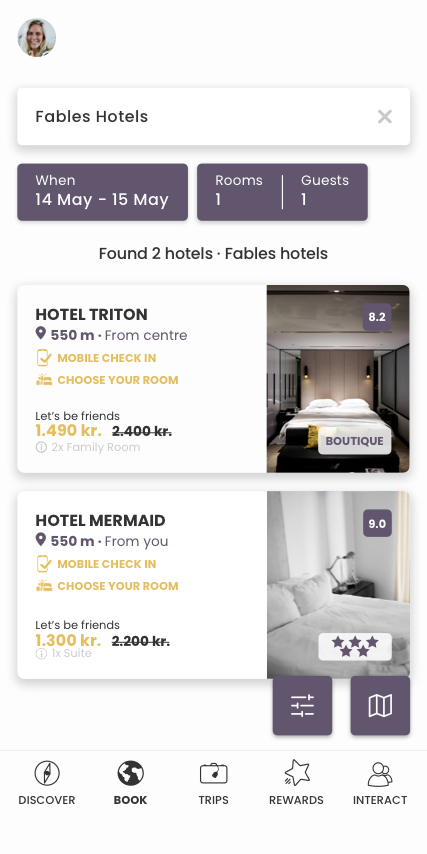 1

/ 3
Re-Book & Direct booking
With AeroGuest, your guests can book a stay in just three clicks. All prices are controlled by you, as AeroGuest integrates directly with your channel manager.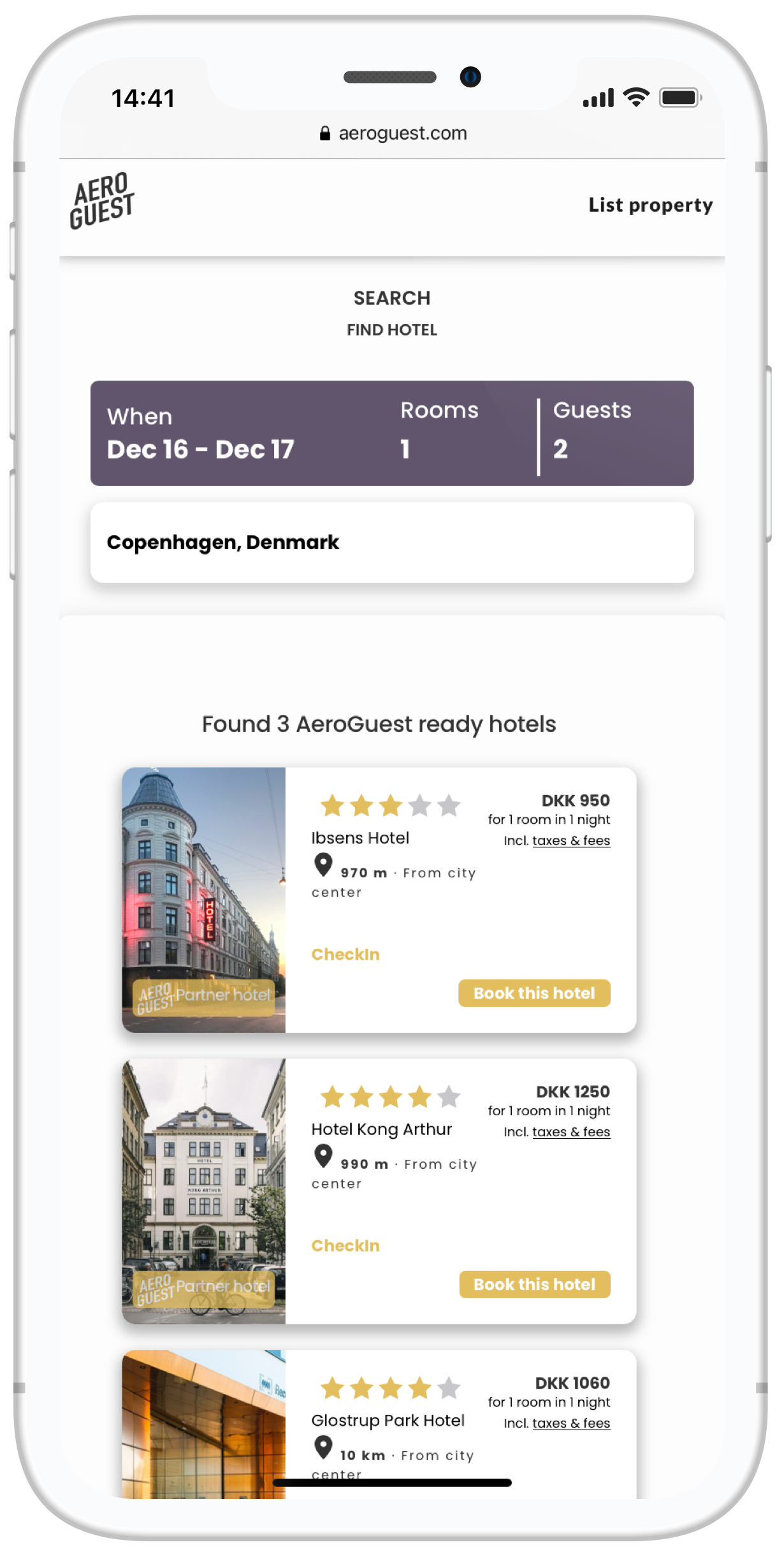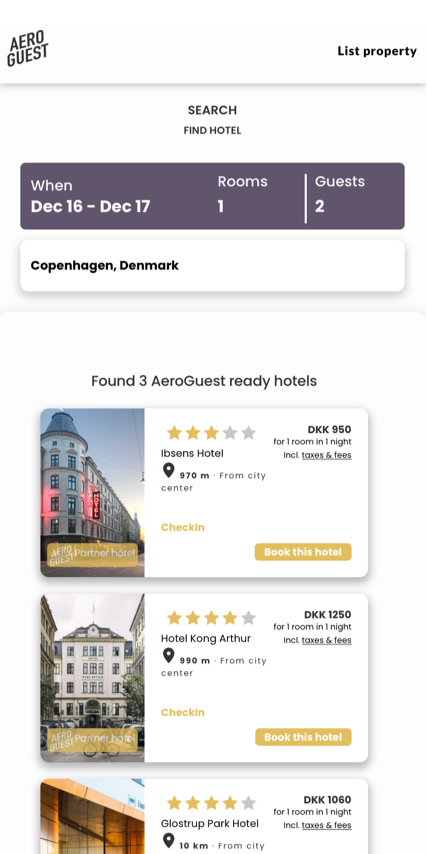 2

/ 3
Re-Book & Direct booking
The guests can also book a stay through the App or aeroguest.com with the lowest admin fee on the market.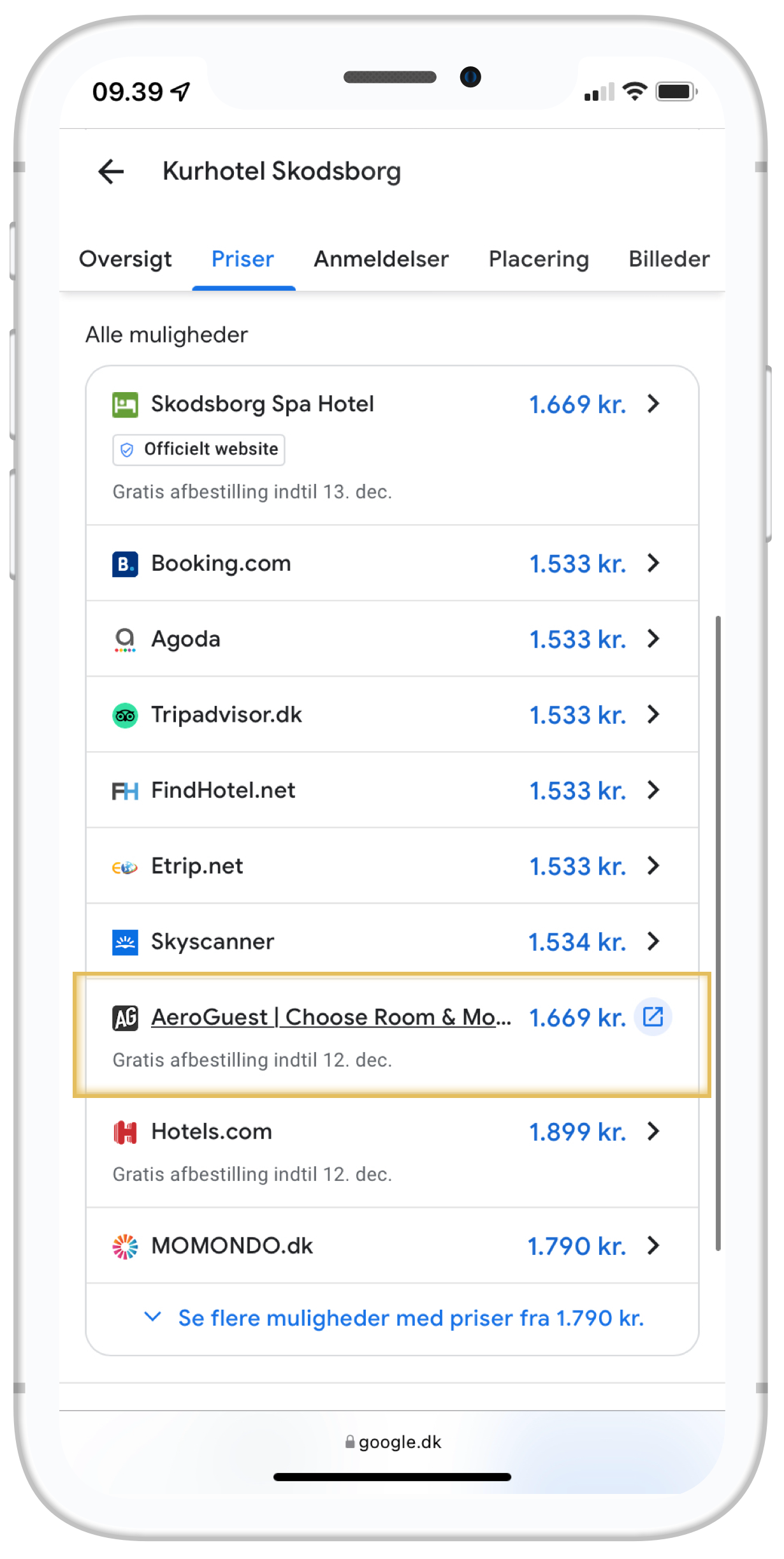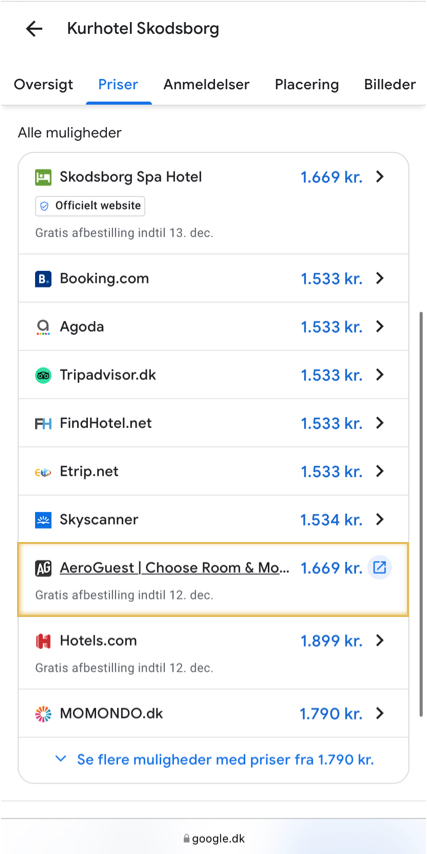 3

/ 3
Re-Book & Direct booking
Your hotel will be listed at Free Google Booking Links with your prices through your channel manager. And you only pay 2.5% in the booking fee.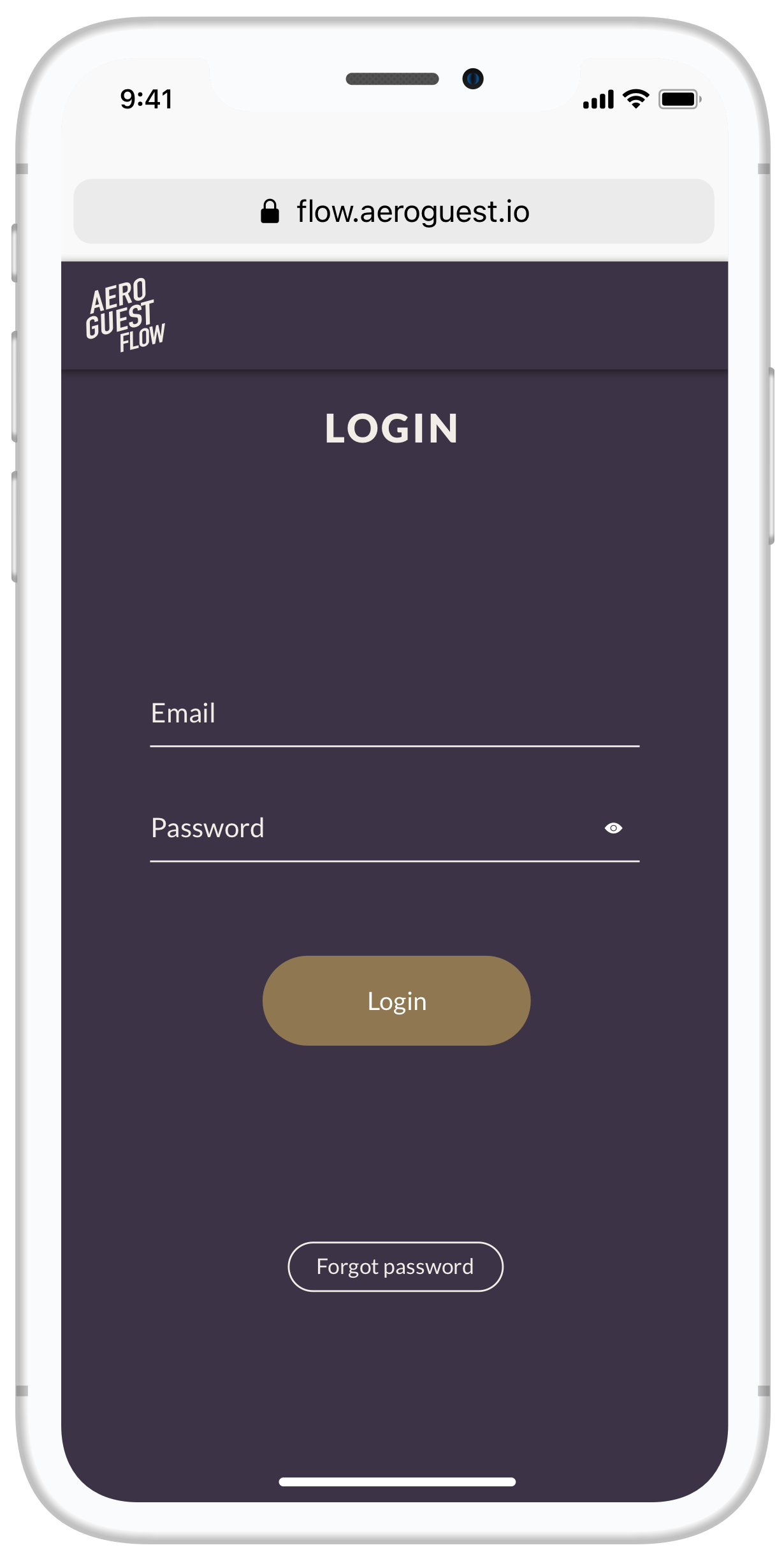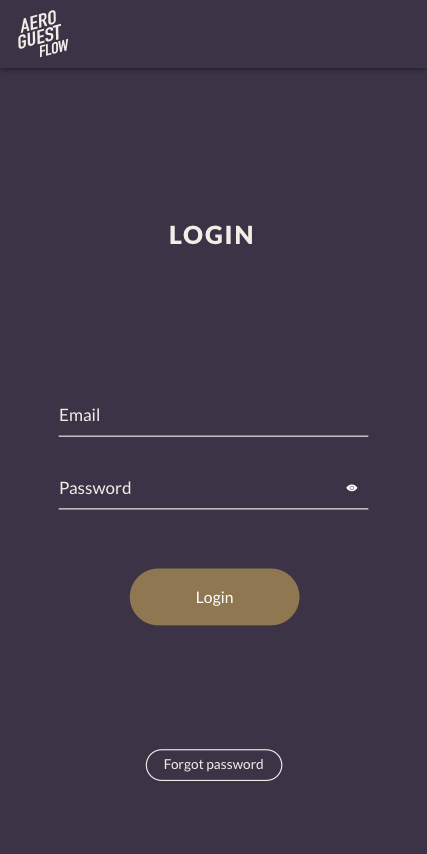 1

/ 3
AeroGuest Flow
You and your colleagues get access to our Guest Management Platform - AeroGuest Flow where you will have all your guests in the palm of your hand.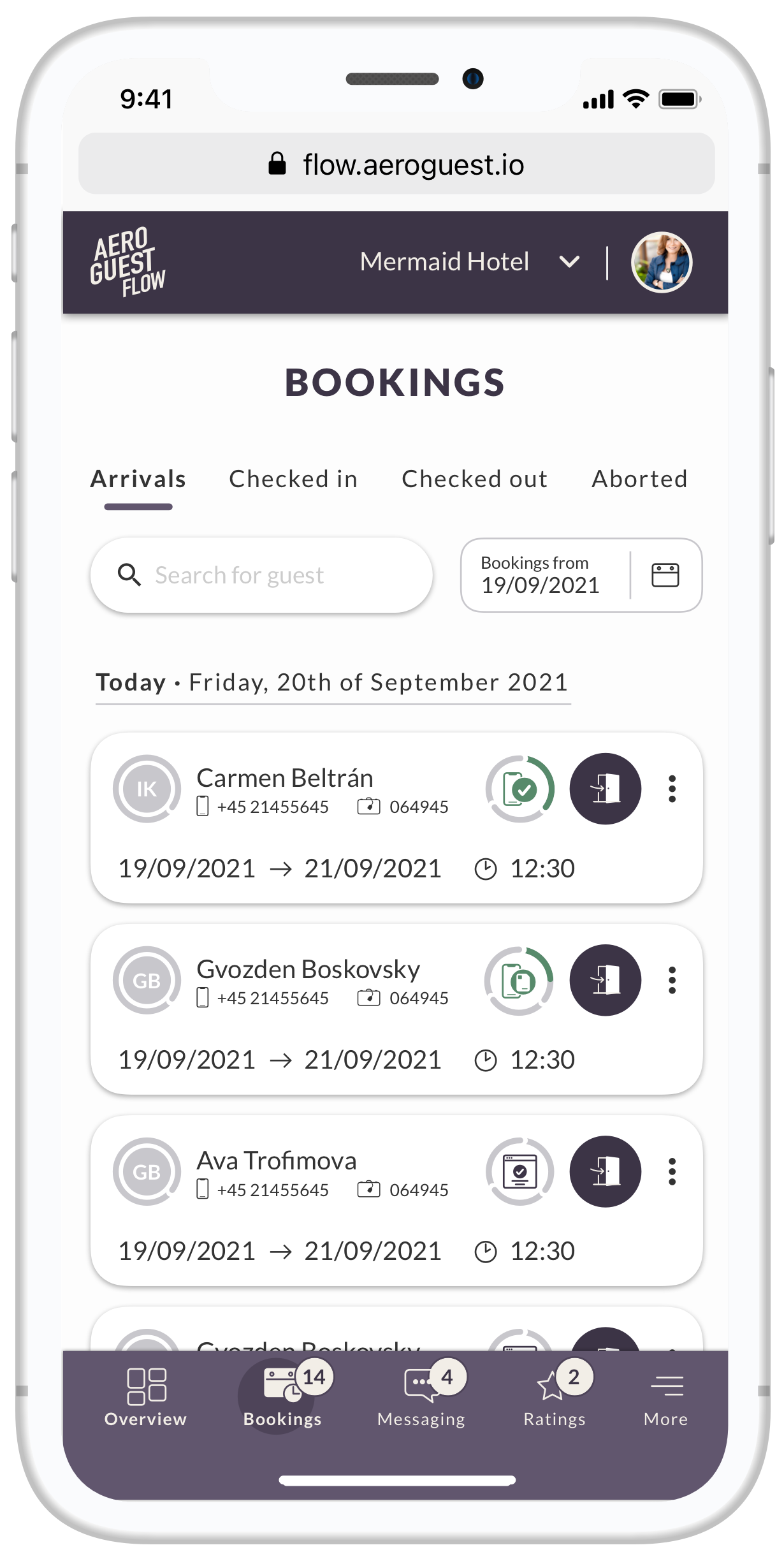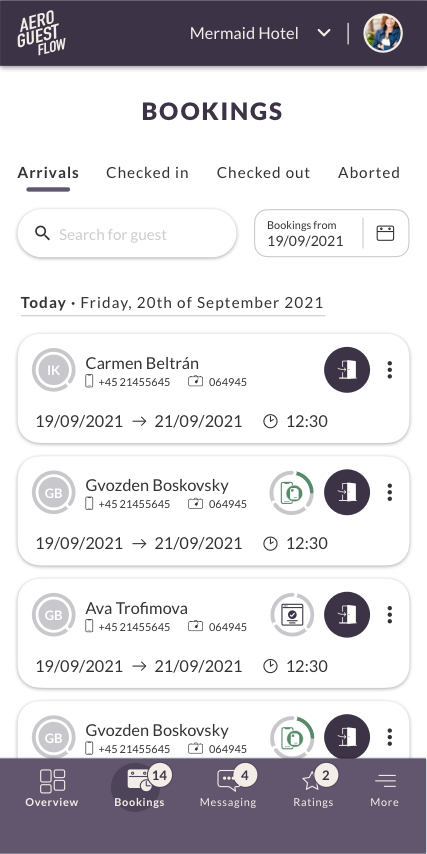 2

/ 3
AeroGuest Flow
In Bookings, you can see how far are all the arrivals in the check-in process and whether the email and SMS invitation was sent and delivered.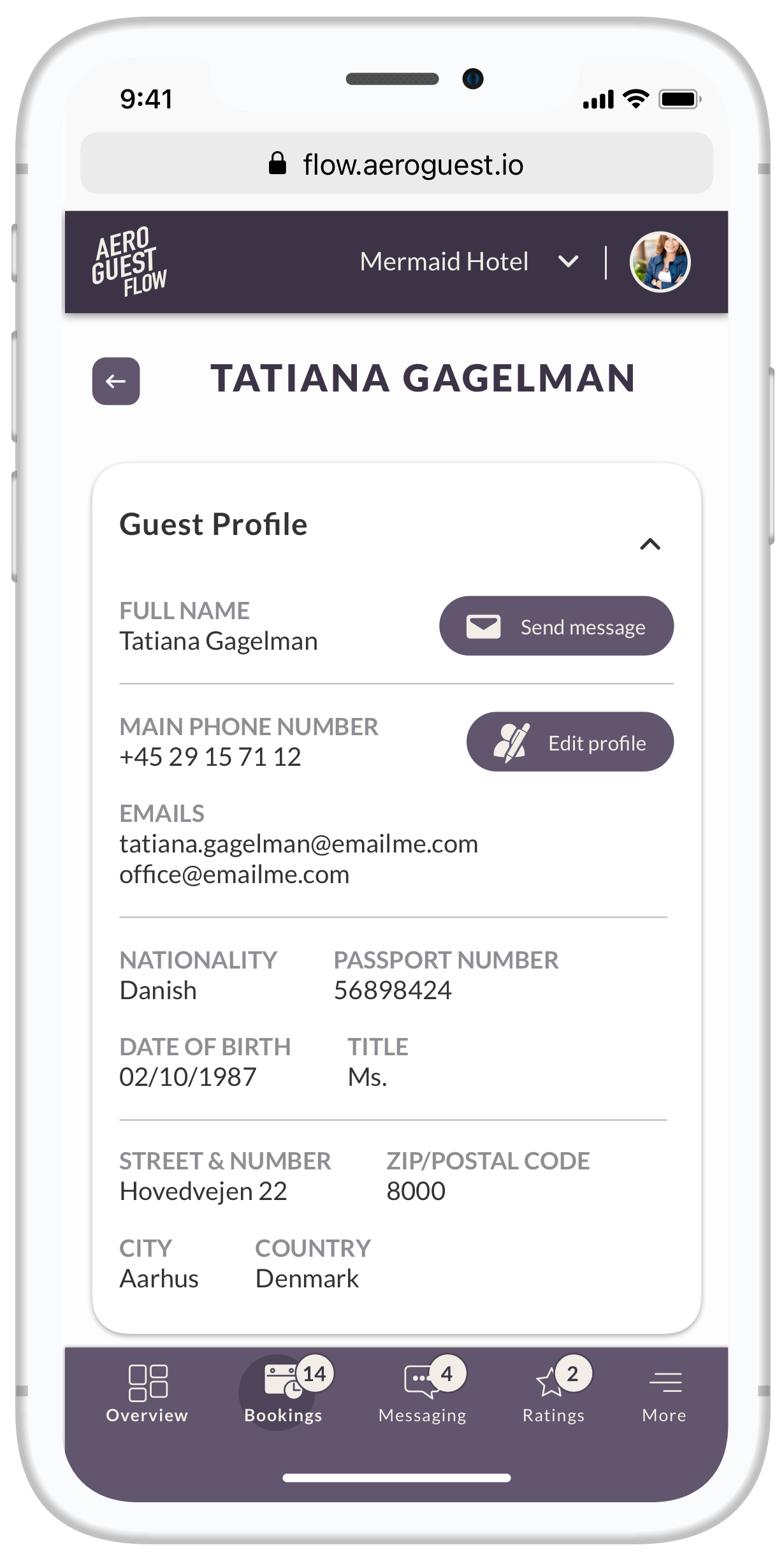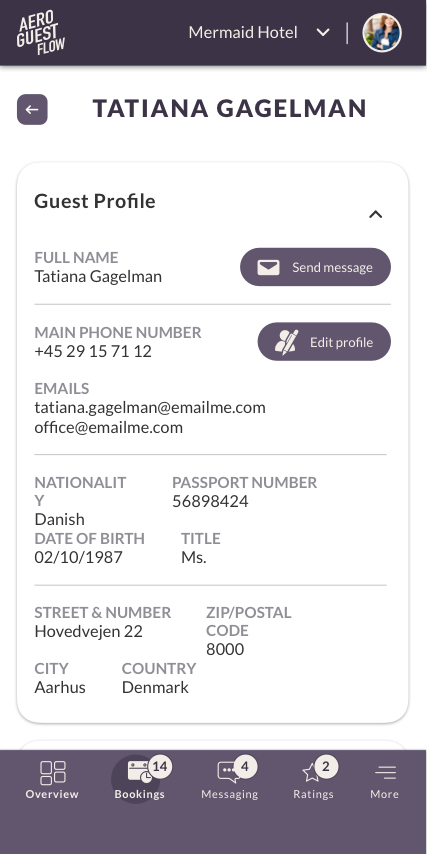 3

/ 3
AeroGuest Flow
By clicking on the guest's name, you will access all information about the guest including a PDF with signed terms and conditions.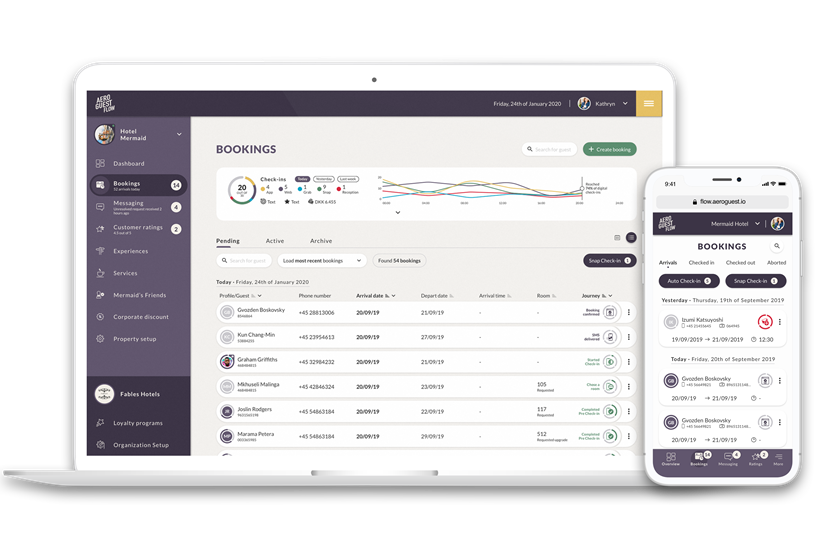 AeroGuest Flow
Your Guest Management System (GMS)
We strive to be a strategic partner to hotels. Our aim is to grow the hotel business through innovation and mobile conversion. Using our complex technology, we help hotels navigate the digital world of hospitality.
With AeroGuest Flow you can monitor all your guests checking in with AeroGuest - your new mobile service. With your advanced Guest Management System, front desk and lobby personnel are able to move around freely as AeroGuest Flow features responsive design. You can monitor the guest journey and all the new revenue streams from Choose Room and UpGrade Room to F&B purchase.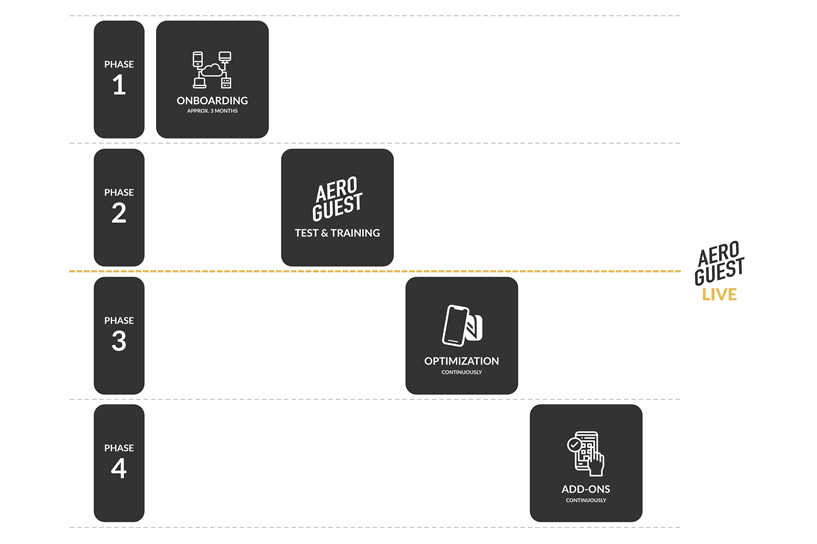 Getting started
It takes 4-6 weeks from signature of contract with AeroGuest and until the first pre-arrival checked-in guest arrives at the hotel. We secure the integrations to your PMS, Mobile Access Locks, Channel Manager and Payment Gateway, as well as staff traning and local adaptions.
We dedicate a Customer Success Team to your hotel or hotel group to secure the optimal guest experience at your property.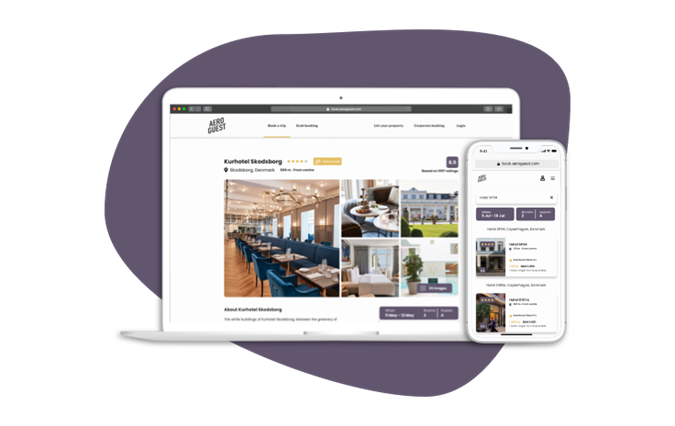 AeroGuest Direct
Simple Integration
Enable your hotels to be directly bookable on aeroguest.com and in the AeroGuest app, with your own ARI data (prices and availability) as specified in your channel manager.
In addition AeroGuest provides a Google landingpage optimized for highest possible free booking link ranking.
AeroGuest Direct is plug'n'play, all we need is to set it up through your Channel Manager, and your visible in the entire AeroGuest Eco-system.
Fee: Only 3.5% in admin fee per booking.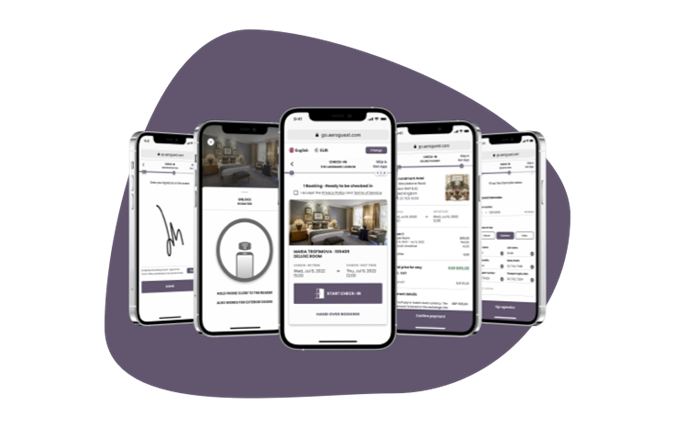 AeroGuest Flow
Perfect Integration
Put the entire check-in process in the hands of your guests. It's about ti:me. 
With AeroGuest Flow your hotels have secured the guest demand for mobile hospitality and a wide range of new services and revenue streams.
Features such as Choose Room, Upselling during check-in, Passport scan, Payment, Digital Key, In-Room Purchase and Mini bar will be some of the services your guests can benefit from. All we need is a two-way integration to your PMS.
Fee: €1-2 per check-in plus a range of upselling services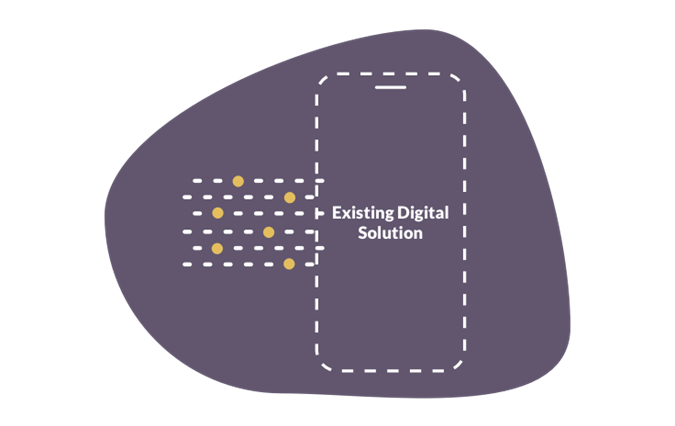 AeroGuest Connect
Deep Integration
Allow your organisation to rapidly build and deliver your own advanced mobile hospitality solutions by connecting to the vast capabilities of the AeroGuest platform through API and SDK Integrations.
Your development organization will be connected directly with the developers and customer success manager from AeroGuest through our shared Slack Connect workspace. The collaboration includes strategic workshops with the CTO and CCO of AeroGuest to secure a straight path to success.
Fee: Licens = €100 pr. month pr. property plus 1€ per 1.000 API Calls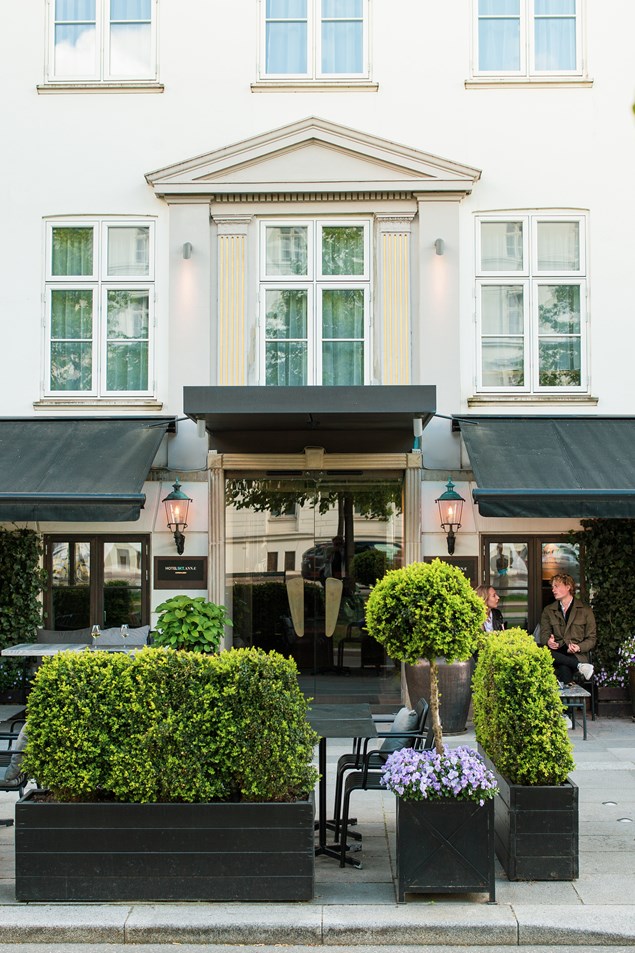 Hotel SKT. Annæ
Hotel SKT. Annæ is a boutique hotel with a perfect central location in the pulsing heart of Copenhagen. The four-star hotel maintains the soul of the buildings, combined with high quality and design.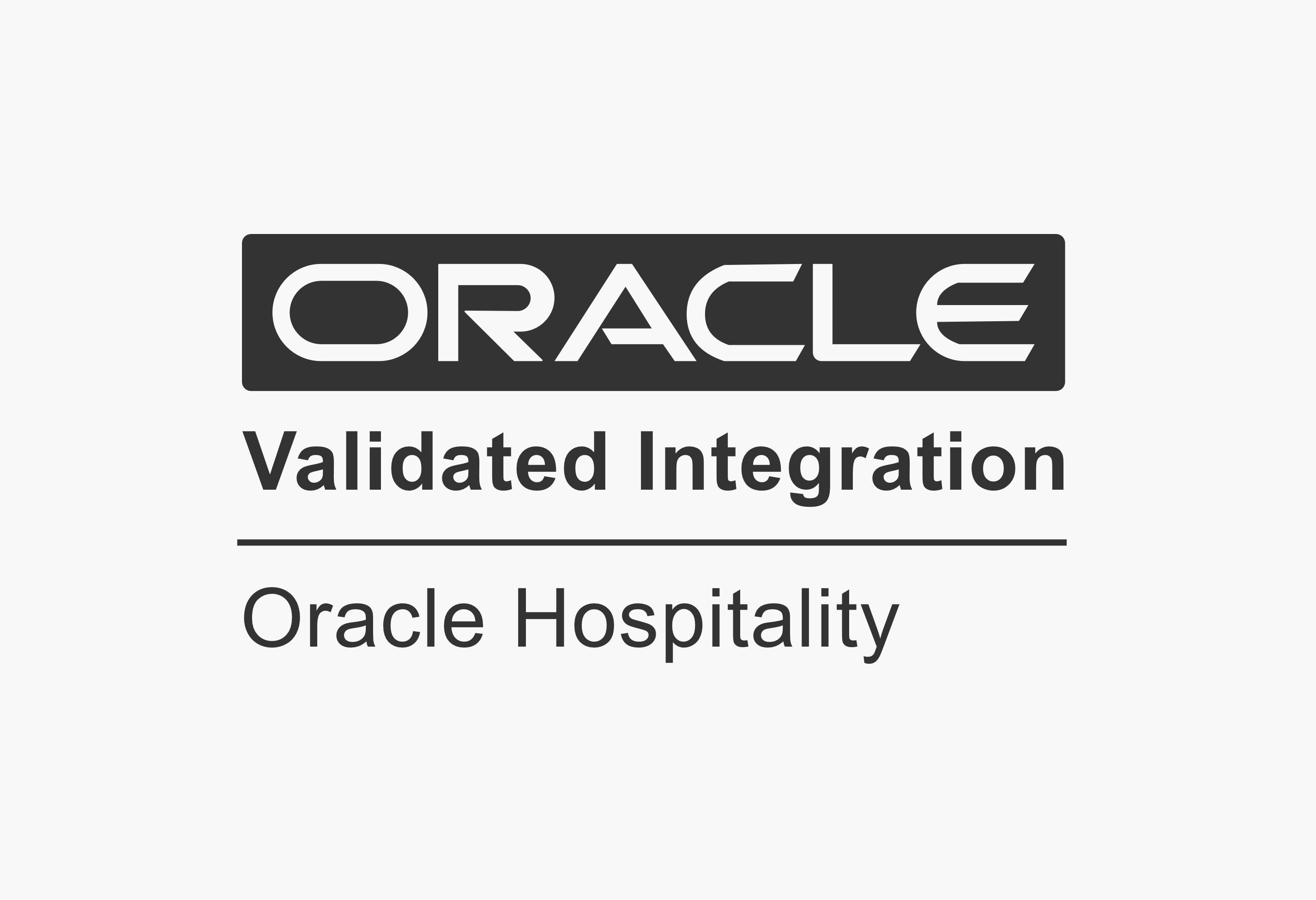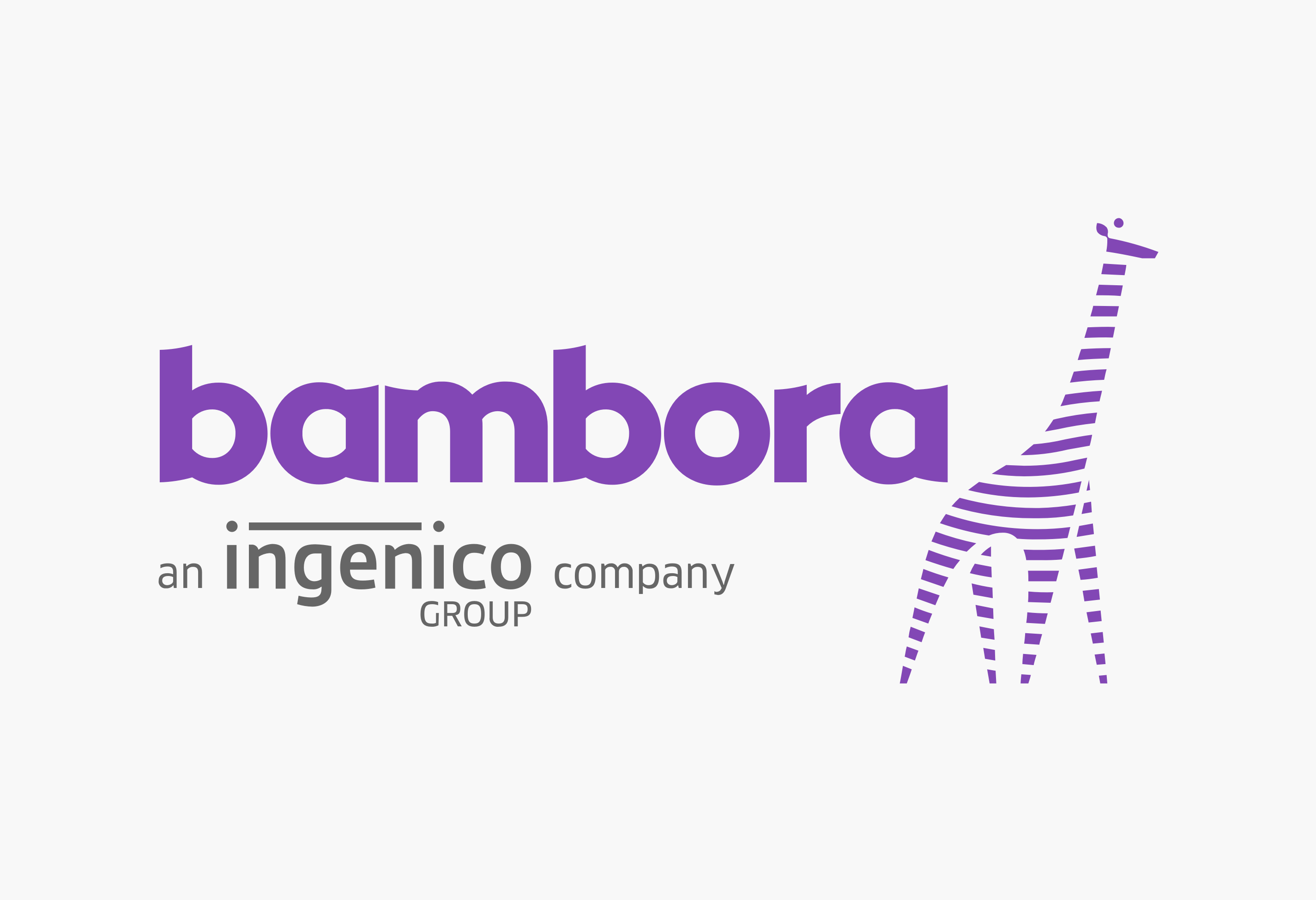 We connect to your existing tech-stack in order to provide next level mobile hospitality to your hotel guests.
Want to increase your hotel service and revenue?
Get personal demo