Completing the full circle of
automated guest management
GuestTech Special Edition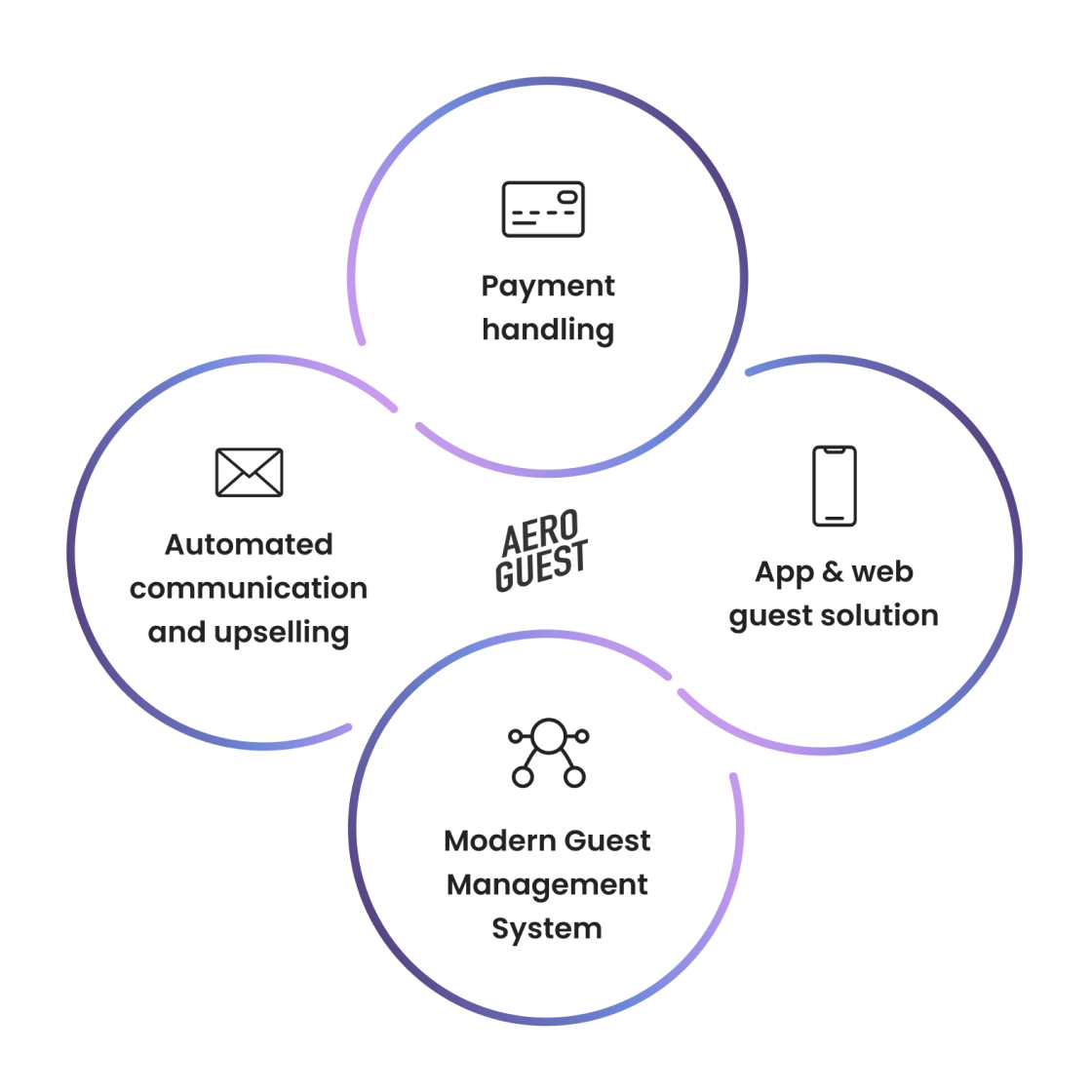 Marketing and communication tools are in high demand and there doesn't seem to be a lack of suppliers. Most of these solutions however do not have a focus on a needs of the growing and evolving hospitality industry. This is why AeroGuest recently introduced an advanced communication platform, holding countless benefits and features that cater exclusively to the needs of hoteliers.
Within the platform, automated communication will ensure guests receive the right message - email, SMS, app messages - at the right time, by recognizing where the guests are in their journey. Time and place are the first crucial factors to determine when and what is communicated to guests.
Adhering to these factors shows that you value the guest's time, increases the chances of getting your message across, and persuades the guest to take a certain action. Determining guest's reservation status, room type, rate code, leisure vs. business traveler or even the number of guests in the room are just a few factors to mention that will influence when and which message they will receive.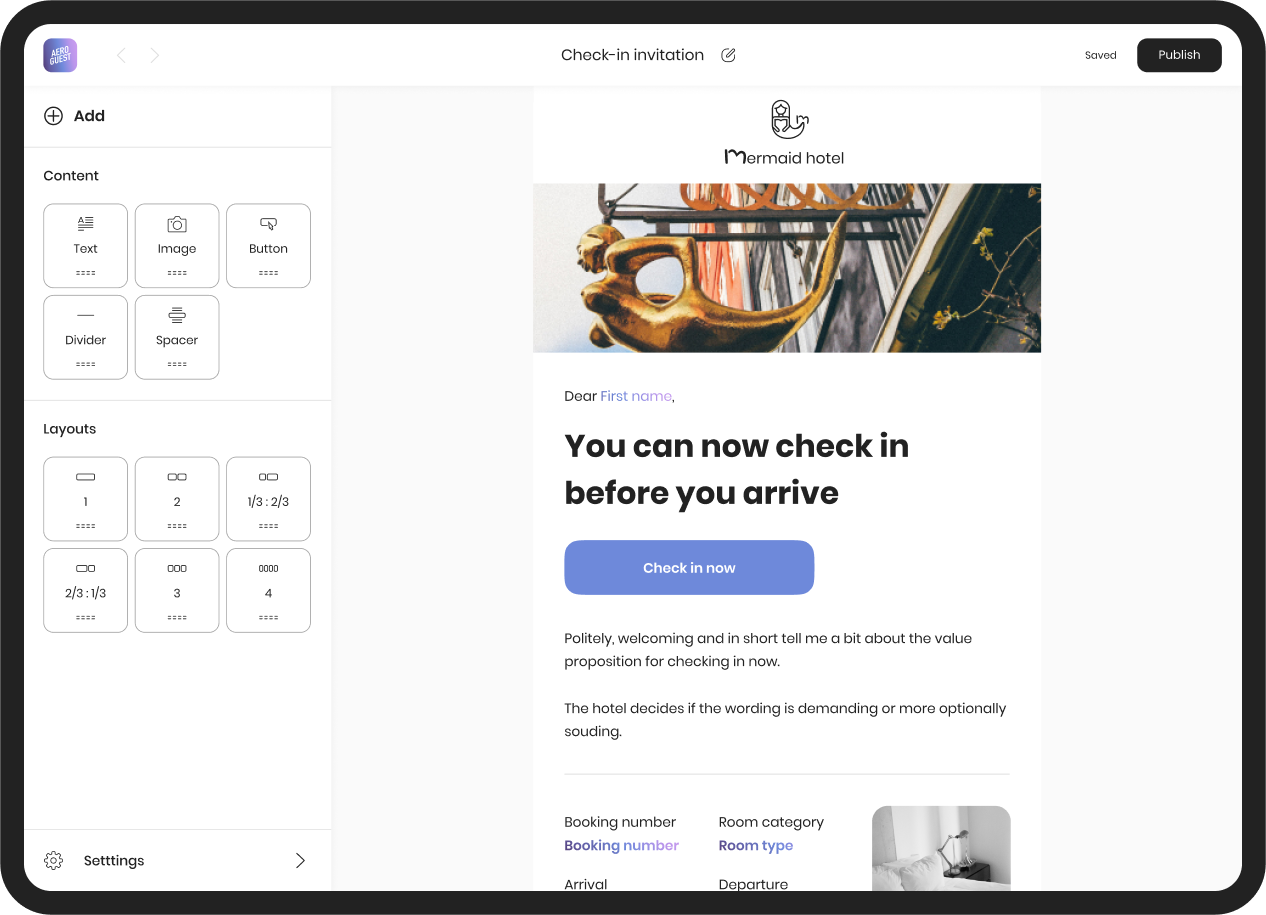 AeroGuest Communication: Made for hoteliers
Due to the intelligence within the platform, AeroGuest can also identify guests' preferences and habits, enabling hoteliers to provide guests with tailored and personalized communication. E.g. for a guest who made a reservation without breakfast during their stay, hoteliers can now easily automate a tailored upselling message. This personalization not only adds value to the guest experience but also creates new revenue streams for the hotel. 
All the above and more strengthen interaction and communication during the entire guest journey, distributed via SMS, app messages, or email. The latter can be created and customized using the upcoming intuitive email builder, packed with vast library of templates, best marketing practices and options to personalize every email for each guest. The result is a two-fold win: hoteliers benefit from easier management, while guests enjoy more personalized and timely communication. Over time, this leads to improved guest satisfaction, better online reviews, and increased repeat bookings.
One platform, complete control
By incorporating AeroGuest Communication into our portfolio of products, we aim to solve one of the most significant challenges in the industry – the challenge of managing multiple tech suppliers. The objective is to uplift frontline staff by replacing complex tasks of managing multiple systems and provide a solution that has it all.
Our Guest Management Platform offers a one-stop system for comprehensive insights – not just of the communication flow but also real-time insights into guests' digital journey, branding, reports, and business intelligence. All of this is accessible through a single login, making it easier than ever for hoteliers to manage their operations effectively.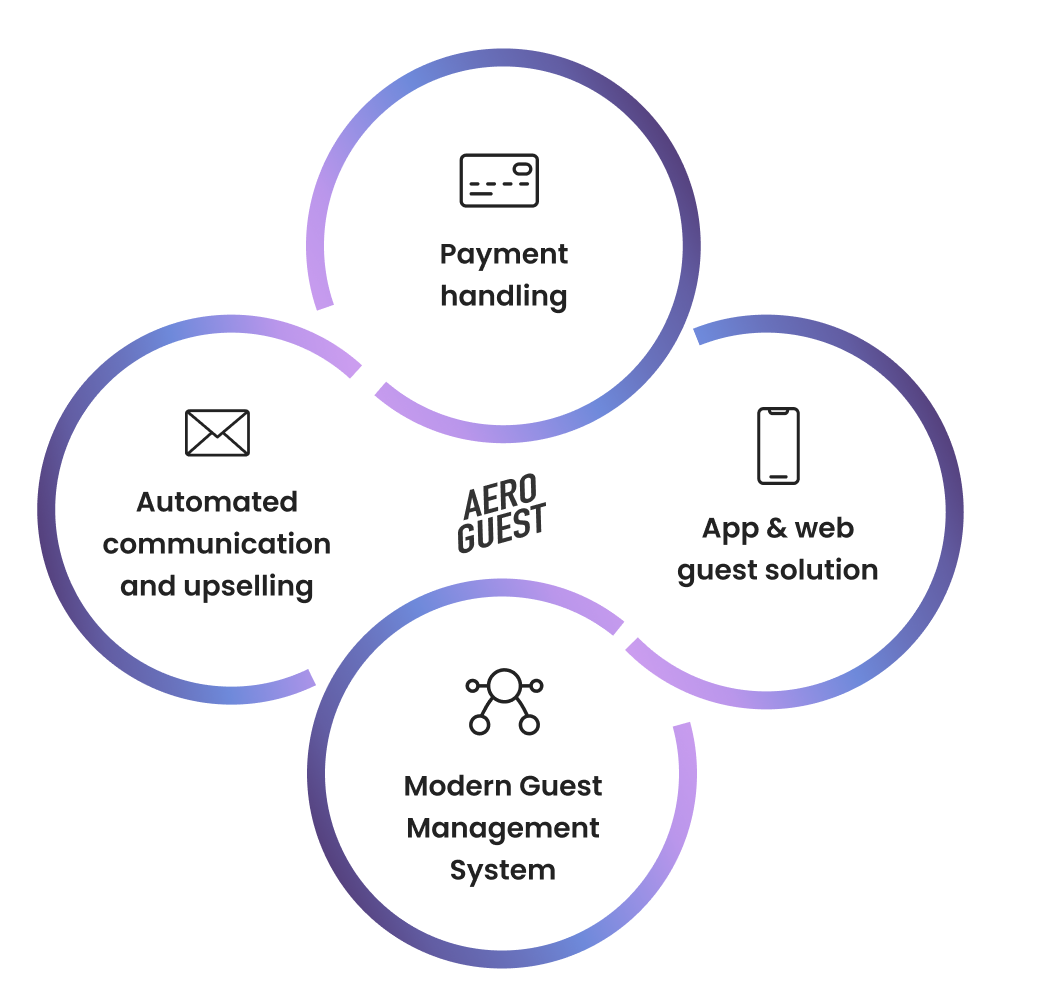 A fully integrated hotel solution
Over the recent years, AeroGuest has made considerable strides in enhancing the platform. From establishing two-way integrations with industry tech leaders to supporting a wide array of payment methods commonly used in e-commerce eliminating the need for manual administration for hotel staff. With the launch of AeroGuest Communication, we offer hoteliers a complete ecosystem and go-to solution covering all aspects to simplify operations and improve guest experience. With the needs and challenges of hoteliers at the top of our minds, we will ensure an easy and enjoyable transition for all. 
Let's have a
chat
Ready to see our product in action? Schedule your personal demo today by filling out the form. One of our representatives will reach out to you shortly to arrange a convenient time that works best for you.