The New Age of
Booking Data
The information guests provide when they book their stay is a goldmine of insights that can fundamentally enhance the guest experience and the hotel's profitability.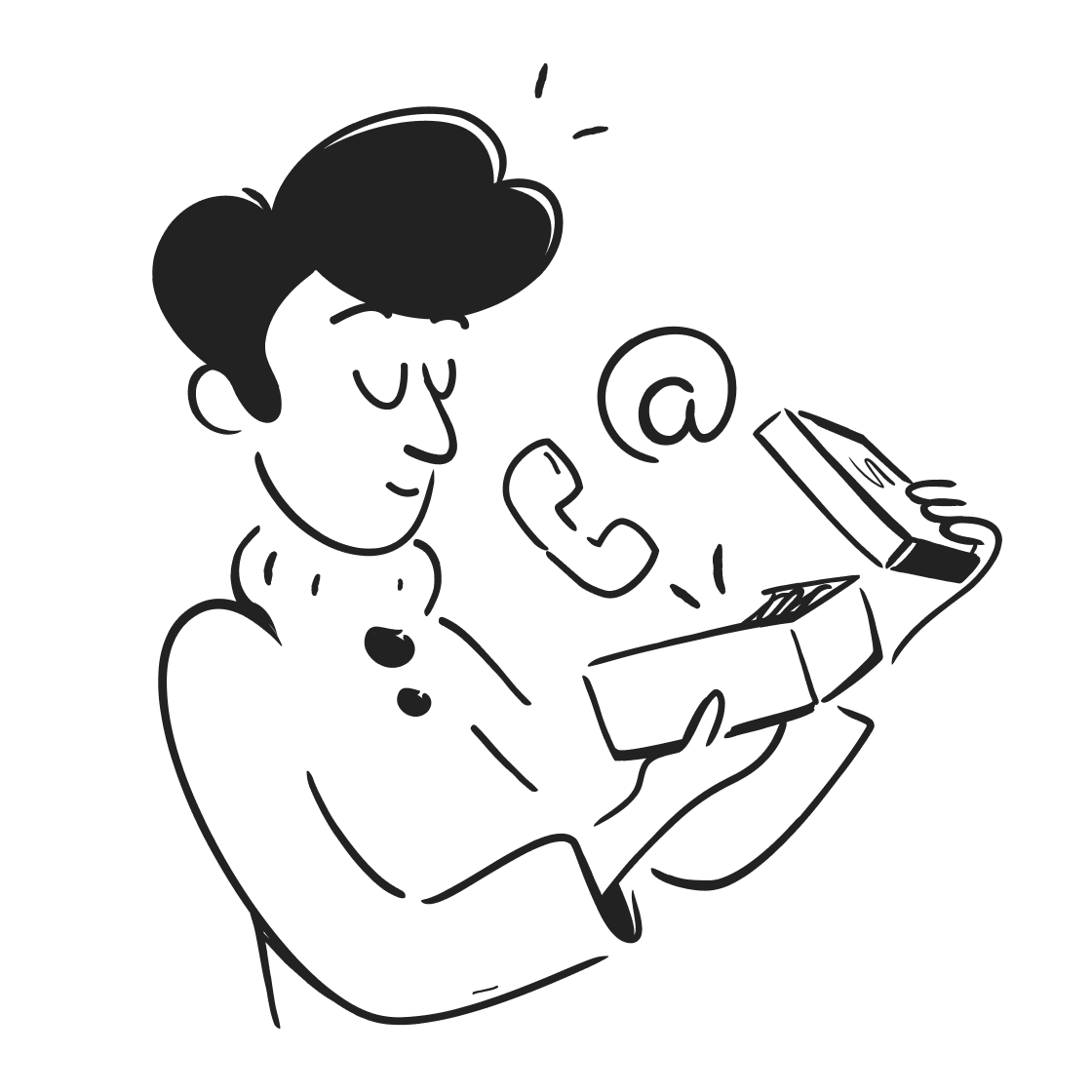 In this month's edition of GuestTech, we are shifting the spotlight onto one of the most powerful resources in the hotel industry – booking data. The information guests provide when they book their stay is a goldmine of insights that can fundamentally enhance the guest experience and the hotel's profitability.
Quality booking data
In today's era of digitalization, the quality and richness of booking data should not be overstated. It's not just about hosting guests – it's about understanding them, meeting their specific needs, and making them feel valued. On the other hand, hotels are paving the way to long-term success by understanding the guests. But what does rich booking data mean? To start with, capturing personal contact information, such as email or phone number, with the guest's consent, is invaluable.

Are you asking why? It is simply because data opens the door to many opportunities. Whether it's for personalized guest communication prior to arrival making sure guests are well informed but also to build relationships that extend beyond the hotel stay, foster loyalty and ultimately create unique marketing opportunities for returning guests. This of course requires a proper communication tool, which can make the whole process easy and organized.
"With hotels having quality booking data, AeroGuest empowers hotels to dive into new revenue streams through securing guest consent for marketing purposes. It enables the hotels to communicate effectively, provide targeted up-sells, and tailor promotional campaigns according to the individual guest's interests – a process known as Know Your Customer (KYC). This approach to customer interaction is however deeply rooted in the quality of the initial booking data and that's why we can't stress enough its importance." - Audinga Feiferé, Client Director at AeroGuest
The usage of booking data
Other than prior, during & after stay communication, which is essential, by having rich booking data hotels can:
Easily upsell prior to arrival and during the stay
Offer pre-arrival check-in and payment
Invite guests to the loyalty program
Secure direct booking for returning guests
Send out surveys and collect feedback
Contact guests in case of emergency
Forecast future trends
Booking data are full of advantages, therefore it is important that hotels allocate resources towards securing personal contact information, but remember – consent is key. Be clear about what data you are collecting, why are you collecting them, and how it will be used. When guests feel their personal information is handled with respect, they are more likely to give consent and continue their relationship with the hotel.

Guest incentives
Now, that you know why it's important for you as a hotel, let's have a look at some of the incentives to offer your guests in exchange for rich booking data:
Discount rates: offer a certain percentage off the guest's stay or a free upgrade to a better room category, in exchange for more detailed booking information
Pre-arrival check-in: give your guests the possibility to check-in whenever it suits them, settle their bill without going to the reception, and let them choose a specific room based on their preferences
Digital key: offer your guests convenience, ease of use, and immediate access
Room information: inform your guests when their room is ready
Special offers: complimentary breakfast, spa treatments, or late check-out on a future stay
Room service: offer special promotions and personalized service
Loyalty points: offer extra points for the hotel's loyalty program to the ones who provide detailed information or fill out a questionnaire
Emergency & Safety
How to collect rich booking data
The last piece to the puzzle is how hotels can collect rich booking data, so let's discover some of the initiatives to pursue: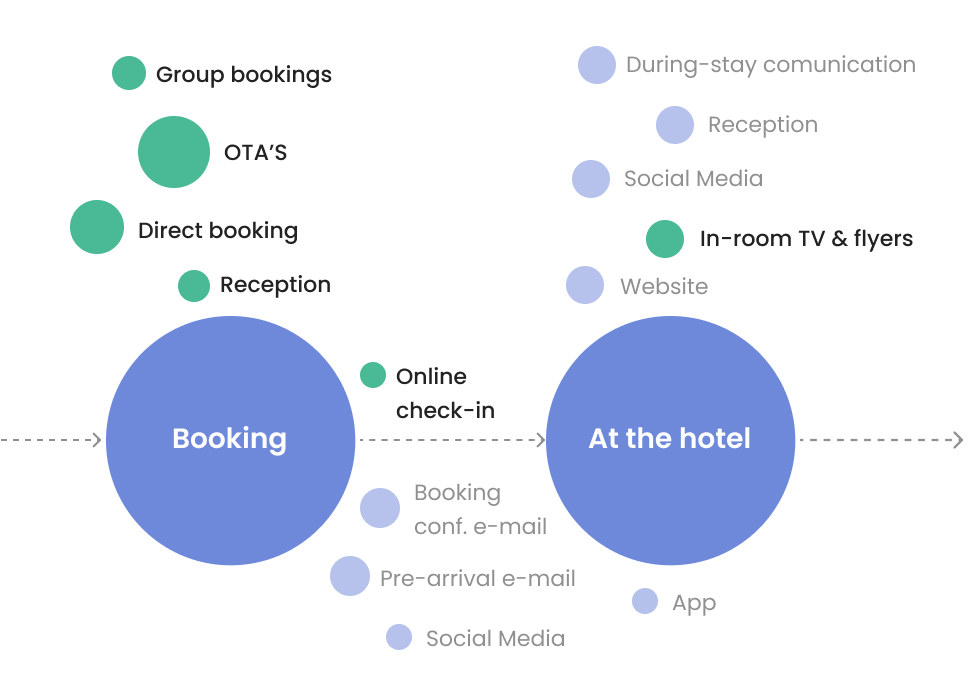 Guest journey touch-points: touch points in the green color show where you can obtain the guest's e-mail or phone number
1. OTA's
When establishing your hotel's profile on OTA's, ensure that the settings are configured to request personal e-mail and mobile number.
2. Direct Bookings
Every hotelier loves direct bookings, as they bring full revenue to the hotel, saving the 20% fee typically lost to OTAs. You can encourage guests to provide rich booking data simply by asking them during their booking process. Naturally, using this booking data can help ensure that the guests choose to re-book via the hotel website in their future visits, enhancing direct bookings.
3. Group Bookings
Guests arriving through a group booking are often getting the worst experience as hoteliers have no way to communicate with them. Why not ask for the e-mail when a group booking is in the making, - the group attendee would get a much better experience and maybe gain the possibility to check-in prior to arrival equipped with a digital key on the mobile phone.
4. Pre-arrival mobile check-in
Operating with modern tools like AeroGuest, rich booking data is the key to automating all operations around check-in, communication, up-sell, and check-out. By having an e-mail or mobile number from all guests, they would be checked in prior to arrival, and thereby make time for what matters.
5. At a reception
A receptionist should always ask for both e-mail and mobile number at all times in order to deliver strong guest communication and modern services.
6. In-room
Give your guests an option to opt-in in the room as well. You can do so with flyers, QR codes, information on TV screens, or any other form which works best for your guests.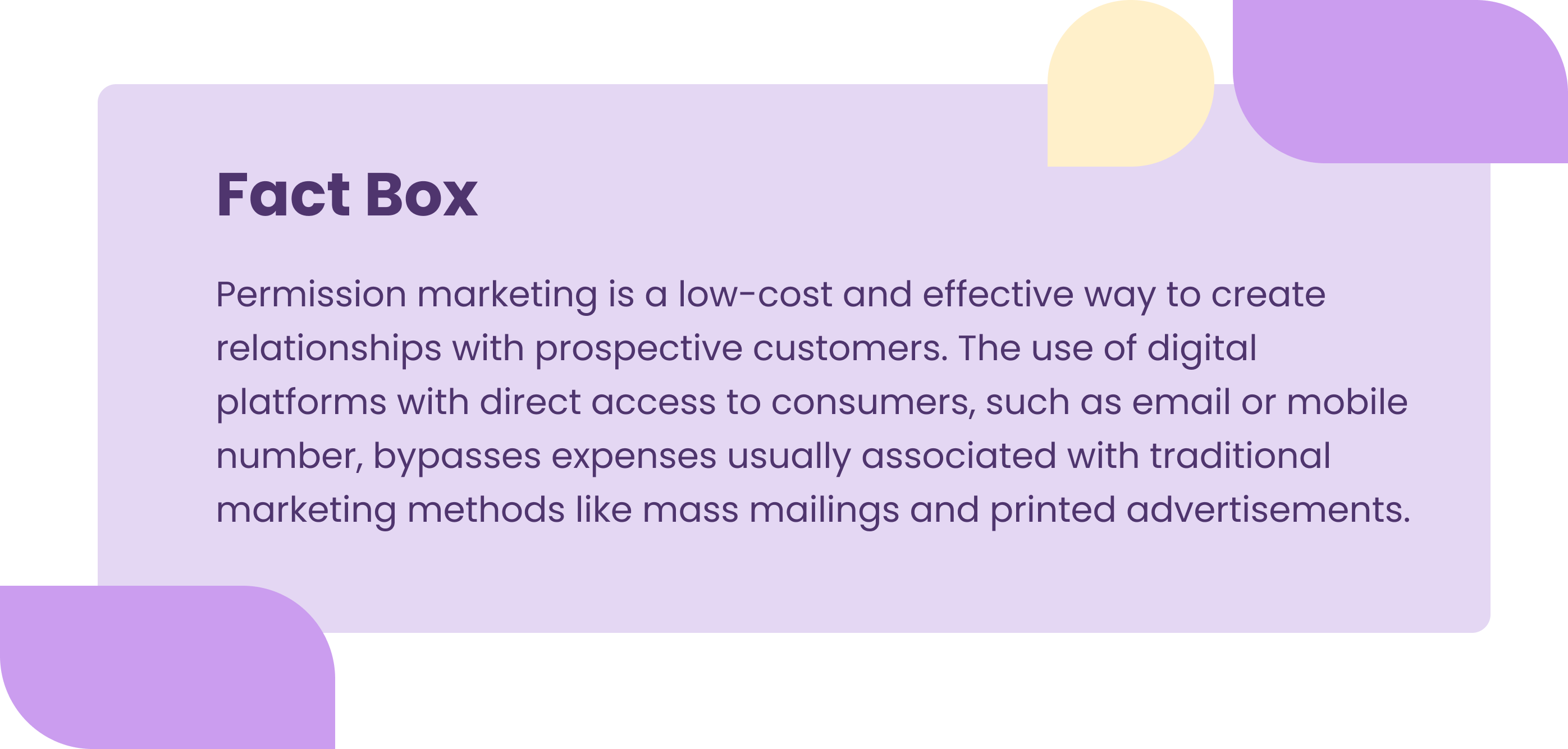 Just imagine, when you gather all your guests' e-mails, you unlock access to all guests who want to interact with your hotel and return for yet another great experience. Wouldn't it be fantastic to engage with them? Over time, you will have a substantial database of valuable customers. Don't miss out, the potential revenue and the opportunity to further increase your service level are already there waiting for you to take action.
Let's have a
chat
Ready to see our product in action? Schedule your personal demo today by filling out the form. One of our representatives will reach out to you shortly to arrange a convenient time that works best for you.